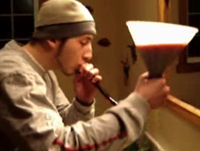 In "The Botany of Desire: A Plant's Eye View of the World," Michael Pollan traces the relationship of humans and four plants: the apple, the tulip, cannabis, and the potato. When watching the new PBS documentary based on the book, I was surprised to hear Pollan compare pot and wine. To the tape:
Though marijuana is not fully legal [in Amsterdam], it can be sold and smoked in coffee shops, drawing tourists from around the world. You can walk down the street and catch the whiff of marijuana smoke coming out of bars–cafes as they're called–and you can choose exactly what kind of experience you want. [voiceover from clerk: "More dreamy"…] You look at this scene and you marvel at it. It's no different than people sitting around and enjoying their glass of wine or cigarettes.
Apparently American elementary schools aren't the only ones who equate wine and pot. Yes, marijuana and wine are intoxicants. But there are big differences, even aside from one being legal and the other not (well, maybe not for long). Even though there are many varieties of marijuana and one Colorado newspaper may soon hire a marijuana critic, the different varieties all appear (as I found out from some googling, ahem) to create intoxication to a greater or lesser degree, faster or slower.
While intoxication is, of course, possible with wine, it is not always why a lot of wine enthusiasts lift a glass. Imagine a professional wine taster doing a ganbei and that taster wouldn't make it very far in his career, let alone the day. Or a food-wine pairing that ended with slumping into one's soup. Wine is not Everclear.
While certainly some wines have dialed up the alcohol in recent years, there has been consumer pushback recently with this style of wine and lower-alcohol wines have become more popular (Kermit Lynch, a retailer in Pollan's own Berkeley, recently sold a mixed case of wines marketed as lower alcohol).
Pollan is, surprisingly, an unkind bud to wine. I guess he joins Adam Gopnik in the "whoda thunk?" group of food writers in their views on wine. Gopnik once wrote in The New Yorker: "Remarkably, nowhere in wine writing, including Parker's and Echikson's, would a Martian learn that the first reason people drink wine is to get drunk."
Should food writers see wine as food?