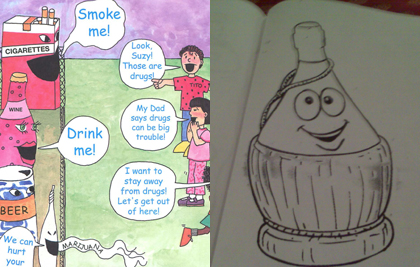 I recently posted about a pamphlet that our six-year-old son brought home from school equating wine and pot.
A friend living in the Veneto, Italy writes in with this comparison:
I thought I would share the work that our son brought home from his Montessori pre-school today: filastrocca del vino. A page of rhyming verse about making grapes into wine. Followed by pages to color about grapes + wine including a smiling Chianti bottle. Their fall learning unit was covering varietals through learning about grapes.
After the jump, find the text of the rhyming verse and a couple more pics (no joints).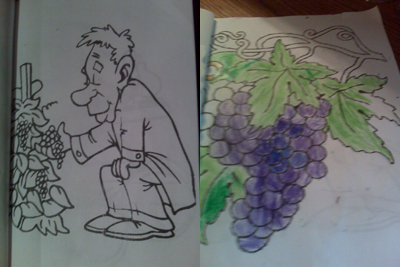 Here is the rhyming verse (see more here and a loose translation here).:
FILASTROCCA DEL VINO
DALLA PERGOLA NASCE L'UVA:
PRIMA E' ACERBA POI MATURA.
LA RACCOGLIE IL CONTADINO
E LA SCHIACCIA DENTRO IL TINO.
BOLLE IL MOSTO GIORNO E NOTTE,
POI FINISCE NELLA BOTTE.
NELLA BOTTE SI RIPOSA
FINCHE' E' VINO COLOR ROSA.
DOPO TANTE SETTIMANE
VA A RIEMPIR LE DAMIGIANE,
MA LI' DENTRO NON VUOL STARE:
ORA E' PRONTO DA INFIASCARE.
PER LA FESTA DI FAMIGLIA
PASSA POI NELLA BOTTIGLIA;
NEI BICCHIERI VIEN VERSATO
E DA TUTTI E' BEN GUSTATO.