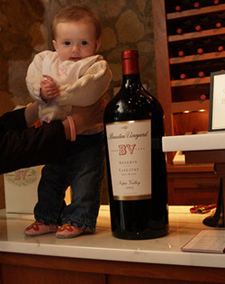 Discussion on a recent posting highlighted that the new Sattui castle winery in Napa has a "no kids" policy, which set off brief exchange with one reader supporting it. One dad emailed that he thought there should be a "no asshole" policy instead. As a wine-loving dad, I certainly enjoy going to wineries with my wife and four-year old–heck, we've even been to NYC wine bars together, though at an early hour.
So I thought I would give this a more public airing with a poll. What do you say: should kids be banned from wineries?


Thanks for voting; poll now closed.
Related: "At Wineries, the Visitors Can Be Young and Bubbly: Napa Valley" (NY Times, May 22, 2005)
(image)