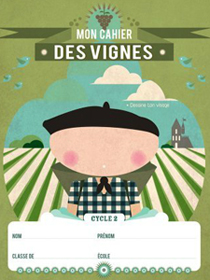 Here's a question that we have addressed over the years on this blog: what's the best, most responsible way to teach kids about wine? We've talke about an American approach that treats wine like a drug and an Italian approach that has kids singing songs and drawing pictures of Chianti fiaschi.
You'd think that wine would part of everyday education in France since the country boasts a high per capita consumption rate and we've all seen that picture of the kid with a bottle of wine under each arm. But, in fact, the French education system has, along with much of French bureaucratic attitude toward wine, had a shift for the puritanical in the past couple of decades.
So it is terrific to see the Bordeaux wine trade council is offering classes about wine "heritage" to kids aged 6 – 10. It's optional, and the piece on decanter.com notes that they won't be pitching it to schools, so it is a far cry from being a mandatory class. But let's hope some schools do partake; learning about making wine seems like a great idea in a wine-making region/country. And what kid doesn't love a tractor ride?