Another six-week session of my NYU class just wrapped up last week. I poured about six wines per class around various themes (if you'd like a one-night class, register for the holiday wines session on 12/10). Here are some of the popular and/or notable choices from the term:
Pinon, sparkling Vouvray NV (about $19): I poured a bubbly in almost every class; this one was unanimously liked. How could it not be? It is gorgeous bubbly with delicious aromatics and a balance between acidity and delicate residual sugar. It will be on my Thanksgiving table–and in a white wine glass.
Hirsch, Veltliner #1, 2007 (about $15): Refreshing, with good acidity and a hint of that snap pea character of Gruner, this wine got lots of thumbs up, particularly for the price.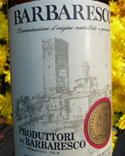 Produttori del Barbaresco, Barberesco, 2005 (about $33): I poured this wine the first day to illustrate tannins. While the taninns were actually more muted than I had anticipated, the wine was wildly popular. Many Nebbiolo fans were made from a sip of this wine. It does benefit from some air; another bottle that I bought was still going strong on day two.
Domaine Guion, Cuvee Prestige, Bourgeuil, 2006 (about $12): After our discussion online about cabernet franc, the polarizing grape, I had to add this wine to the following lineup. All but four people really liked it (about 90% of participants); I love it too for the good acidity and interesting tannins and have been buying it by the case.
Ridge, Three Valleys, Sonoma (about $23)
This blend of mostly zinfandel fermented with natural yeasts has 13.8% alcohol, refreshingly low for a zin. The class really liked its lushness and didn't find it as overextracted as some of the other wines. It's also a good value, available online for less than I paid for the class.
Luzon, monastrell, Jumilla, 2008 (about $8): This wine was funny since it was the cheapest wine we tasted for the day, yet the most popular as people reached for their pens to scribble this one down. To me, it didn't have a lot of individuality but certainly was not the worst example of monastrell I've ever had (ahem, Sierra Carche).
Search for these wines with wine-searcher