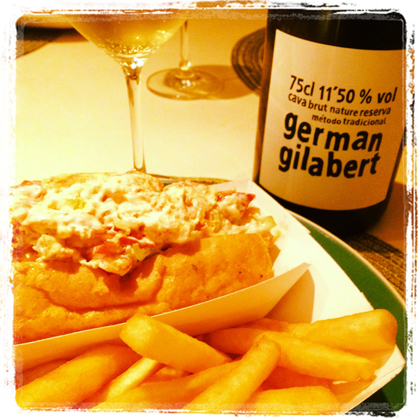 During the recent, week-long power outage, we sought refuge in an undisclosed location that may or may not have been the Commonwealth of Massachusetts. We found a bottle of "brut nature" cava German Gilabert (about $15; find this wine) at a local wine shop and got some lobstah rolls. This is hipster cava with a secondary fermentation in the bottle, six bar of pressure, no dosage and overall a very solid match!
Interestingly, a little of the cava remained in the bottle and I left it on the counter. A couple of days later, I poured it in a glass and was surprised it was bubbly! I tasted it and it showed no signs of deterioration.
I asked the wine's importer, Jose Pastor, via email for his thoughts on why this bottle held up so well. He was puzzled by the persistence of the bubbles, pointing out that he likes to decant many (grower) Champagnes and that reduces the fizz. As to the lack deterioration, he said that many of the (natural) wines from his portfolio often actually show better after being open a couple of days.
As several small producers in Champagne are making their bubbly more wine-like with less fizz, perhaps giving sparkling wines some air and serving in wine glasses will be a good way to go. What have you found in your experiments in giving bubbly some air?