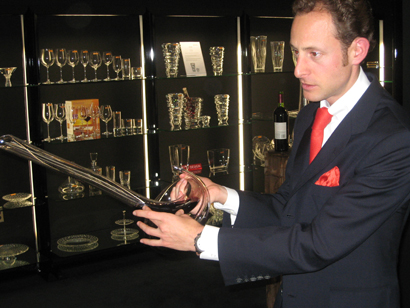 Recently, at a crystal glass tasting at the Riedel Manhattan showroom, Maximilian Riedel unveiled his latest $500 decanter called "Eve." It resembles a coiled snake with a two foot protruding shaft. Needless to say, it was mouth blown. "Eve" derives from Adam and Eve; the snake theme came because Riedel was born in 1977, a year of the snake in the Chinese calendar.
He poured the wine from the bottle into the shaft and rolled it around in the double decanting chamber, which he designed and said was patented.
The question arose of how to clean the snake decanter. He said that he cleans his in the bathtub. (He admitted an intercultural faux pas when in Japan the week prior by saying as much to his local audience; apparently taking anything from the kitchen into the bathroom is taboo.) Ah, memories of the Seinfeld scene of Kramer trying to save water by washing lettuce in the shower…
Riedel goes to restaurants, he said, because he wants to be entertained. When dining, he asks to keep the decanter of wine he's ordered on the table, saying, "I want people to see that I am spending more than $12 on wine!"
More to come about the Riedel taste test. In the interim, Riedel did offer some tips on how to clean Riedel crystal glasses.
* He said he puts his right in the dishwasher.
* If you have the time to hand wash, that works too. He cautioned against washing them the same evening since he said the sink can appear very small and the glass very big.
* For red wine glasses, fill the glass to the top with warm water and soak overnight to remove tannins. Dry with two dish towels, starting with the base, and working up to the balloon. Don't hold the base while drying the balloon; rather, cup it if you can to avoid separating the stem from the balloon, which could cause a nasty injury.
Related: "Varietal stemware: genius or hucksterism?"