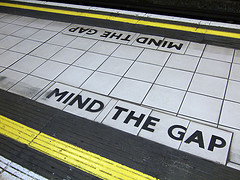 People in California have a higher opinion of the quality and the value of wine produced in their state than do residents of the other 49 states. This phenomenon, dubbed "the Sierra gap," (no, after the Sierra Nevada mountains, not Sierra Carche!) comes from the 2008 Wine Market Council survey. Fully 63 percent of Californians think that California wine offers better quality than similar wines as compared to 54 percent of respondents not from California. And in the question of value, the split was even wider at 73 percent versus 58 percent.
This fascinating finding may bear upon our discussion of around the comments from wine importer Bobby Kacher about why so few tasty American wines under $12?
I asked John Gillespie, president of the the Wine Market Council how his survey data differ from the annual Gallup poll, which we discussed recently. As a reminder, our description on the Gallup wine drinkers: "If an alien landed in a room full American wine drinkers, it would meet mostly college educated, AARP eligible women, probably not from the midwest."
Gillespie writes to describe how his results compare to Gallup:
You will see that among core wine drinkers (those who drink wine once a week or more often) there is a slight tilt in the direction of males. You'll also see the a higher percentage of males are reporting an increase in their wine consumption. And when you look at the gender ratio by generation, you will see that younger groups are either gender neutral, or, in fact, skew male. So while the college educated AARP eligible female wine drinker does exist, we should keep in mind that just down the bar there are a couple of guys in their 20s drinking Malbec and texting their friends to come join them.

Among wine drinkers (also from the 2008 Wine Market Council survey of U.S. wine drinkers) is is true that a higher percentage of females (69%) say they prefer wine to other forms of beverage alcohol (56% of males say this). But
the reality is that among core wine drinkers (who account for about 90% of all wine consumed) there are more males than females, and that younger wine drinkers skew male, not female.
The Wine Market Council data also show that the youngest drinkers, a large generation younger than about 32 known as millennials, already consume the second most wine as a group and have the fastest growth rate at 46 percent. That's quite a contrast to Europe, where younger drinkers are drinking less wine.
Slides after the jump.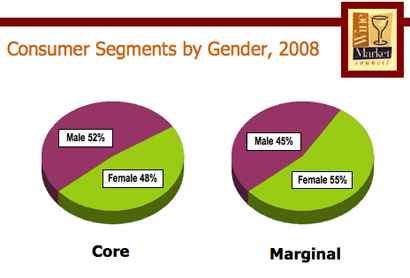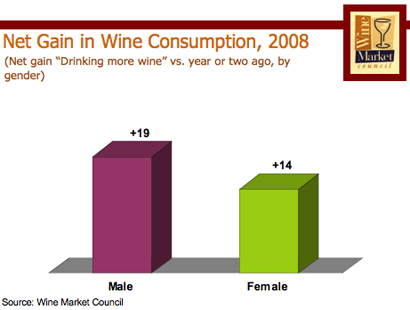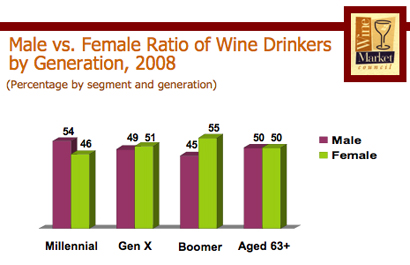 The Wine Market Council describes itself as "a non-profit association of grape growers, wine producers, importers, wholesalers, and other affiliated businesses and organizations. The council's mission is to establish the widespread acceptance of wine as a rewarding part of American culture and to encourage the responsible enjoyment of wine by current and future generations of adults in the United States."