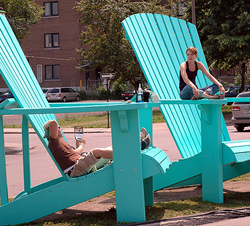 If an alien landed in a room full American wine drinkers, it would meet mostly college educated, AARP eligible women, probably not from the midwest. There would be relatively few men aged 18 (!) to 49. So says the polling group, Gallup. Almost.
In their annual survey of how and what American drinks, the smokin' pollsters at Gallup point to a gender gap where men prefer beer and women prefer wine. (For beer-wine-spirits preferences, men are 58-19-18 while women are 21-50-24. Click through for full summary and charts.)
How does this square with your experience? In my own, I find a lot of enthusiasm for wine among them there young folks. And men and women seem equally into wine. But my evidence is purely anecdotal!
As to the economic effect of the recession, they say it is hard to sort out. But their main finding is that the percentage of Americans who drink alcohol is the same as last year, at 64%. Meanwhile, over on the Big Board, The AP has this about the quarterly numbers from Constellation (STZ): "Sales for the company, whose brands include Robert Mondavi wines and Svedka brand vodka, dropped 15 percent to $791.6 million from $931.8 million on the stronger dollar as well as the sales of the value spirits business, spirits contract production services and some Pacific Northwest wine brands."