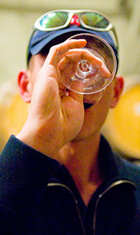 If you had to guess, where would you find a third of the population doesn't drink any alcohol: the USA, founded by Puritans, or Europe, largest producer of wine?
Well, if you guessed either (or both), you'd be right according to a comprehensive survey undertaken by market-research firm GfK for the Wall Street Journal and reported there on Friday.
But even more eyebrow-raising than the overall number of teetotalers in Europe is wine's relative unpopularity, particularly among younger cohorts in wine producing countries. Consider Spain, the third largest wine producer in the world by volume. There, of respondents who drink alcohol, beer outstripped wine by a two to one margin.
But if you break it down by age, 48% of the youngest cohort (14-29 year olds) favors beer as their "preferred" alcoholic drink, with distilled spirits coming in second with 28%, cocktails third with 14%, and wine a distant fourth with only eight percent. Overall, the preferred drinks youngest Western Europeans in the survey are beer (44%), wine (22%), cocktails (17%), and distilled spirits (14%). The 14-29 year olds respondents in France and Italy, the two largest wine producing countries, both preferred beer to wine but the percentages preferring wine (24 and 29% respectively) were above the Western European average.
Interestingly, to round out what might be termed a rebellion effect, 14-29 year olds in the UK, a country that has historically had no wine production and taxes it particularly heavily when compared to beer, preferred beer and wine just the same with each drink getting 28%.
The next oldest group like wine more but it's not until the 50+ year olds that wine comes out as the drink of choice at the Western European level. Overall, wine was the preferred drink of of those who drink alcohol 43 to 34 over beer, with spirits and cocktails getting nine and eight percent respectively.
European wine producers must love the Swiss who, along with the Italians, say the prefer wine the most with 62 percent of respondents in those countries favoring wine.
Of course surveys of attitudes toward drink can be fickle as the annual Gallup drinks survey has shown here in the US the past few years, but this one provides a lot of fine grained data with 17,000 respondents and and excel file available with detailed responses. Check it out and let us know what you find most surprising.