What happens when a reviewer tastes a good bottle, but some consumers buy what appears to be a completely different product? Think it couldn't happen? Guess again and behold the saga of Sierra Carche 2005.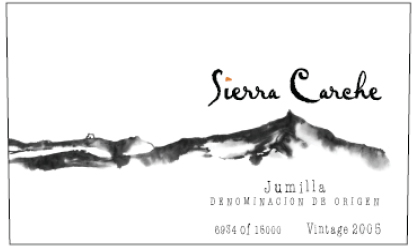 Last fall, Wine Library, the Springfield, New Jersey wine retailer, sent out an email offering for a wine that seemed to be the wine lover's dream: a fantastic quality-to-price ratio. The wine on offer was the Sierra Carche 2005, a blend of Monastrell with Petit Verdot and Malbec from the off-the beaten path Spanish region of Jumilla. Jay Miller, a critic at the Wine Advocate, described it as "Inky purple, the wine offers an array of scents which jump from the glass… structured wine with gobs of flavor, terrific intensity… It will provide pleasure through 2025." He awarded it 96 points. The suggested retail price was $40; Wine Library was offering it for $29.99. Robert Kenney, a New Jersey wine consumer, was so enthusiastic upon seeing the email that he ordered several six packs.
But Kenney's euphoria turned sour as soon as he pulled a cork. He later wrote on the forums at erobertparker.com that "I have consumed 6 bottles already, praying that with each popped cork, a different genie will emerge…so far, no such luck…slapping 80 points on those bottles is generous."
Kenney describes himself as an "unabashed fan of DrBigJ," as Miller is known. But Kenney was so disappointed with the wine that he corresponded with Miller and FedExed Miller one of his bottles last fall for him to taste and "see if indeed it was indicative of the wine that he had tasted and scored highly." Kenney wrote last week that "During a ten month period I had exchanged seven emails with DrBigJ, reminding/imploring him to taste the sent bottle…to no avail."
Then a consumer in Pittsburgh, Bob Hudak, posted that he had found the wine for $38 at the PLCB, the state-run store in Pennsylvania. On July 5, Hudak wrote of his experience, "Considering that it was a Dr Big Jay 96 pointer in the WA, I figured I buy 6 bottles. I opened my first one this weekend. Big mistake. The wine had virtually no aroma at all. You couldn't smell a darn thing. With time and air, some stinky aromas that were off-putting became noticeable."
Kenney chimed in on the thread as did several other consumers with their negative experiences with the wine. (The wine's scores on cellartracker.com were not all bad although several reviewers took the time to note flawed bottles and one gave it a 74 but the modal score was around 90.)
On July 14, Miller posted to the forum that he finally opened the bottle Kenney had sent him and declared it "undrinkable." Miller contacted the importer of the wine, Mark Clinard of Well Oiled Wine Co., who replied, "We have had similar problems with this wine and had a meeting in March with the winery to find out what the problem is. There was clearly some substandard product shipped by the winery and we have had to take back a large chunk of this wine from the market because it was rejected by the trade. I apologize on behalf of the winery for this apparent bait and switch. Going forward we are searching for a different winery for this brand." He posted his cell phone number and asked that those consumers with problems contact him.
Brandon Warnke, Vice President of Operations at Wine Library, posted that anyone who bought the wine through the store could return it to them for a full refund.
Jay Miller then wrote: "this is about the worst thing that can happen to a critic, to be tasted on a fraudulent wine, publish a note, and then have readers spend their good money on a fairly pricey wine only to find out that it's plonk or worse. Its reminiscent of the furor over Las Rocas a few years ago that nearly killed that brand. It's a bad situation all around."
Bruce Leiserowitz, a consumer, then asked specific questions of Miller, who replied:
I'll do my best, Bruce.
1. The wine was tasted at the usual venue where RMP and I taste with importers, The Oregon Grill in Hunt Vally, MD. Present was Mark Clinard and his partner in the Well-Oiled Wine Company, and Mark Noah, the sommelier who pours wine for Bob and myself. The wine was tasted from bottle; it was not presented as a barrel sample.
2. I can't respond to this question except that Mark Clinard said that there were three different bottlings of this wine and that some of it was sound. A few people on the Board have given the wine excellent notes while others have had problems. The logical guess is that these discrepancies were due to the differrent bottlings. The wine that Robert Kenney sent me was not defective int he sense of brett, mercaptan, or any winemaking issue. It was just mediocre wine like you might expect in a cheap jug wine. As I said, pretty close to undrinkable.
3. I'll take the blame for not tasting the wine right away. I just didn't take it seriously since this was the only complaint that I knew about (until very recently when Bob Hudak and a few others reported their bad bottles).

For some history, go back and look what happened a number of years ago with Las Rocas. It obviously took a while for it to percolate up that there was some bad wine out there. Once it became clear, after being alerted by RMP who received some feedback about bad bottles, the importer Eric Solomon took responsibility. –MrBigJ
He also then added, "I meant fraudulent only in the sense that what I tasted in Robert Kenney's bottle was a different wine than what I tasted with Mark Clinard at The Oregon Grill."
This was the first vintage of Sierra Carche, which is owned by Guy Anderson in the United Kingdom. Guy Anderson Wines describes its business: "As one of the UK's leading brand creators, …. [w]e are constantly researching and learning what people look for when choosing a wine…. We have a strong track record of producing innovative new wine brands…. [B]rands created by Guy Anderson Wines such as Fat Bastard, Mad Dogs & Englishmen and Gran Familia have found success in markets around the world."
But there was still little known about the actual winery and vineyards producing the Sierra Carche. The importer's page states that there were 20,000 bottles produced (the above label showed a number out of 16,000). There is scant elaboration on the vineyards.
In the absence of a reply from the Sierra Carche importer, Well Oiled Wine Co., Victor de la Serna offered some additional information. (De la Serna is a Madrid-based authority on Spanish wine and founder of elmundovino.es.) He writes:
I can give some information on this subject. Bodegas y Viñedos de Murcia is not a winery, but the commercial arm of the Casa de la Ermita group of wineries in southeastern Spain. This is a still quite recent (1999) group which began in Jumilla with Casa de la Ermita (DO Jumilla), was expanded with Casa de las Especias (DO Yecla) and Dominio de la Peseta (DO Alicante), three adjoining appellations sharing the same monastrell-dominated terroir, and there's also, I believe, two more companies, Casa de la Ermita USA and Altos de la Ermita, the latter for upscale wines. The rapid expansion caused the raising of quite a few eyebrows in Spain. The group has been the subject of 'for sale' rumors for several years now – but business troubles are unfortunately not uncommon these days among Spanish wineries, so this is certainly not an isolated case.

There have been a couple of other similar cases of lot variation in the past few years involving inexpensive Spanish wines that were highly rated in the WA – always a risk, IMHO, with wines produced by large-scale wineries which can easily increase production of commercially successful brands. Sierra Carche seems to be a different case in that it's a more expensive wine, but it does come from a very large winery.
Humberto Dorta, a wine consumer residing in Pennsylvania, corresponded with an official at the PLCB about the wine. Here is the reply from the official:
Thank you for contacting the PLCB and bringing this matter to my attention. Please be informed that the Bodegas Murcia Sierra Carche 2005 was not "dumped" on the PLCB as you have described. The importer, Well Oiled Wine presented the wine to my office in the Spring of 2008. As a long time business associate with a new import company. Mr. Mark Clinard of Well Oiled knows the purchasing power of the PLCB. He presented a volume purchase opportunity which we believed at the time would be a great fit for the Chairman Selection program.

As we do with all Premium Collection store proposed wine purchases, my buying team and I sampled the Sierra Carche 2005 which was rated 96pts from the Wine Advocate magazine and quoted with a price of $40.00. We found the wine to be outstanding, in spite of its youth it was showing deep black fruits and some pencil lead. The PLCB price was negotiated to $29.99 for a 700, six bottle, case purchase. The PLCB order arrived in August of 2008 on the first container of this wine to the United States. Only 525 cases of the wine had arrived which went to the Philadelphia and Pittsburgh markets. The Central PA order of 175 cases arrived later and was rejected due to it's late arrival. The 525 cases sold through at $29.99 without any incidents of excessive customer returns.

Effective July 1, 2009 the wine was given a liquidation price of $18.99. There were approximately 150 bottles remaining at that time. As I stated the PLCB received wine from the first container of this wine to the US. I believe that subsequent shipments of the wine may have contained questionable juice. In the spring of this year, my office was offered the Bodegas Murcia Sierra Carche 2006 which we declined. I will personally pull a bottle from our remaining 2005 inventory to see if there is any cause for concern. Again thank you for passing the information along to me.
An email yesterday morning to importer Mark Clinard seeking clarification about the winery, the three lots, the production volume, and possibilities for customer refunds was not returned. Reached on his cell phone yesterday morning, he said he had no comment at this time.
Late yesterday someone posted to the fourms at wineberserkers.com using the handle BVM winemaker.
We produced a single tank of 180 hl for Sierra Carche 2005 and a sample was submitted to the Wine Advocate for tasting in November 2007. We bottled the full quantity over two days and labeled 20,000 bottles for Well Oiled Wine Co order (lots 8113 & 8114) and we reserved the remnant (3,600 bottles) into clean skin stock (lot 7033). Following the wine's successful reception among customers and reviewers, we shipped the remnant lot 7033 to additional markets including 1050 bottles to the US. At the request of Mark Clinard at WOW Co following the complaint by the Wine Advocate, we re-tasted the wine and while we found no problems, we also sent samples for analysis at an independent laboratory. We will report the results as soon as they are available. In the meantime, in keeping with our policy on all wines delivered to any customer, BVM will honor any returns of Sierra Carche 2005.
The saga of Sierra Carche is a fascinating and still unfolding tale. One of the largest questions is what protections do consumers have? Have you ever been like Robert Kenney and bought a lot of wine based on a score without trying it? Do you think that wine stores should honor returns of this wine, as Wine Library is doing? (Not all states may allow returns and some may limit the length of time that a shop could return a wine to the distributor.) Although there appears to be nothing illegal with what has happened, and, if real, the "BVM winemaker" has offered returns of all wine so consumers like Robert Kenney can be made whole assuming the three tier system allows it.