Oxidative wines are an essential wine tasting reference point. Too much oxygen during winemaking (or bottle aging) and a wine becomes oxidized, a flaw; just enough and it is oxidative, a sort of nutty character that people generally love or hate. In my multi-week wine classes, I always try to pour one, usually a sherry, just to provide the distinctive tasting experience. Since we've been talking about reductive wines and screw caps recently, the other side of the coin (barrel?) should receive a little love here too. And why not a vin jaune from the Jura?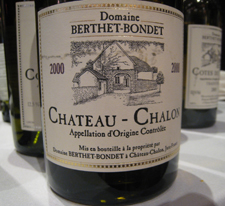 Located about half way between Dijon and Geneva, the pocket-sized region of the Jura makes some of France's most distinctive wines. At a recent trade tasting, I sampled a few of the wines from Domaine Berthet-Bondet, a winery founded by Jean Berthet Bondet on the relatively New World time frame of 1985. The Cotes de Jura Chardonnay 2006 is matured in neutral oak barrels and has a vein of minerality so rich it would out Chablis out of business if the world craved minerally chardonnay.
But the piece de resistance was the 2000 vin jaune (a type of "vin de voile" ) from the micro-appellation of Chateau-Chalon. Made entirely from the Savignan grape, the wine is matured for six or seven years in small neutral barrels, which are intentionally not filled all the way nor replenished (as barrels usually are to replace the "angels' share" that evaporates). This creates further exchange with oxygen. But a film of beneficial yeast forms on the surface to moderate the oxygen exchange and prevent it from heading on a crash course to becoming vinegar. The aging happens in a well-ventilated room so there are wide temperature fluctuations through out the long aging. A complex wine emerges from the process, with aromas of walnuts, dried apricots, daisies. The nutty finish lingers for hours. Really. Truly a wine of contemplation. The oxidative process girds the wine for decades or centuries in the cellar.
Unfortunately, the wine sells for north of $100 for a 62cl bottle (find this wine). Their Cotes de Jura Tradtion 2003 provides the oxidative wine character, but at a fraction of the price (about $22; find this wine). I'd try both with Comté cheese.
Now if only we could come up with a sexier term than "oxidative"!