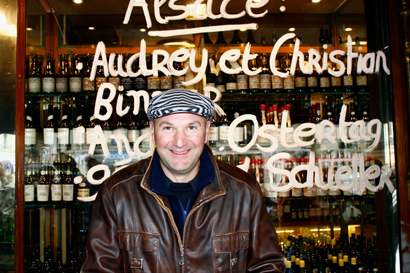 Stephane Tissot from the Jura outside Les Caves Augé in Paris.
Les Caves Augé, the excellent Paris wine shop, has fun, free wine tastings that spill on to the sidewalk. The shop is crammed with so many fine and fun wines that they mainly have to do these free tastings outside of the winter months, so the broad pavements of Boulevard Hausmann are at their most hospitable. For anyone traveling to Paris, there are three remaining Saturday tastings this season at Augé, "Wonder women" on June 5, "Loire" on June 19, and "bubbles" on July 10.
Although we've never met, Tim Eustis is a friend of a friend. He worked in wine retail in New York City and did wine consulting for seven years. About a year ago, he and his family moved to Paris. Back in March, he dropped by the first of the spring tastings. Over to Tim for photos and comments from his tasting some wines from the Jura and Alsace. I have liked some wines from Tissot (old vine Poulsard) and Binner (notably, the gewurztraminer) in the past so was pleased Tim had the chance to taste them.
By Timothy Eustis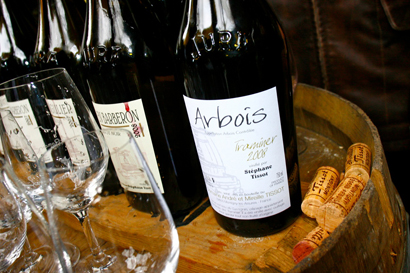 A wine tasting on the street outside Les Caves Augé is a marvelous way for wine geeks to spend a Paris afternoon. The owner, Marc Sibard, is nothing but welcoming and helpful as are all the staff. And the vignerons manning the barrels with bottle after bottle are congenial to a fault. This cool day in March featured a tasting of wines from the Jura and Alsace.
Though the Jura is mostly known (if at all) for their oxidative vin jaunes, from the savagnin grape. Normally, Jura producers make just one vin jaune, similar to the way that most Burgundian producers make only one Marc de Bourgogne, if at all. Perhaps it's because vin jaune hasn't historically been thought to reflect the various terroirs, an afterthought? But not for Stephane Tissot. In 2003, he made 3 different vins jaunes, all of which had a similarly oxidative nose, naturally, but all of which had different textures. The first was a typical vin jaune, the second pointed and very mineral. The third had similarly strong minerality, but of a more gravelly nature.
M. Tissot also makes some lovely examples of Chardonnay. The Cotes du Jura en Barberon, 2007 & 2008, grown on limestone soil, had a lovely richness. These are not your father's white Burgundies. With distinctive minerality, the 2007 was quite approachable, and the 2008 a bit more closed, not surprisingly. The Arbois Gravieres 2007, grown on clay soil, was very spicy, and up 'til then, our favorite. Then he pulled from behind the barrel the Le Clos de la Tour de Curon. This was mouthfilling, but with a lovely balance of fruit and acidity, and very intense. An outstanding wine, we asked about it. The horse-plowed vineyard has an astounding 12,000 vines per hectare (for reference, 5,000 is a lot of vines; 10,000 a huge number of vines; 12,000 is extremely rare). The domaine is certified BioDynamic by Demeter.
The last of the non-oxidised wines in his lineup was the Traminer, aka Savagnin Blanc. This was his way of showing what Savagin can do, when it's not oxidised in a vin jaune. An academically interesting wine, but I preferred the chardonnays. Tissot's wines are, on the whole, fabulous wines and very worth seeking out.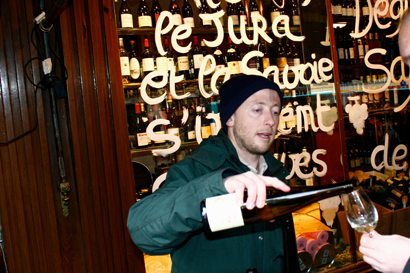 Though one day I aspire to taste everything at all tastings I attend, I all too often run out of time. Such was the case here. So when I finished the tasting at the Tissot barrel, I had to decide which producer I would sample next out of the several that there there. So I decided to have Christian Binner pour me wines from his lineup.
Having only stumbled across a Pinot Noir of his by chance, I was looking forward to tasting the whites. I left entranced by them, in particular his Rieslings. The Sonnenberg '05 was quite rich and elegant, and the Kaefferkopf '06 even more so. I predicted to myself that the Kaefferkopf would be upwards of 13.5°-14° of alcohol, but came in at only 13°. I was surprised, given its richness. But with a pointed elegance, it was a wonderful Riesling.
One of his table wines, the Auxerrois, Hinterberg '06, was cloudy, which I didn't take to be a flaw, but simply a lack of filtration. It had a pretty flowery nose to it, and though rich and almost sweet, finished quite dry.
His Pinot Noir, an '08, was light, both in color and body, but was sufficiently young as to mask the fruit characteristics with present and drying tannins. In a year, it'll be quite nice. Just not today.
Cave Augé, 116 Boulevard Haussmann, 75008 Paris, France, +33 (0)1 45 22 16 97, http://www.cavesauge.com/