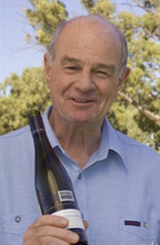 In January, I tasted one of Australia's most well-regarded wines, the Jacob's Creek, Steingarten Riesling. Unfortunately, the bottle was not showing well that day. But, fortunately, I was with Philip Laffer, the Chief Winemaker of Jacob's Creek so I sat down with him and talked about Riesling. Given John Gilman's previous comments about Australian Riesling on this blog, I had to ask him about screwcaps (Stelvin closures) and reduction (anti-oxidation). He also shared his thoughts how many years he likes on a Riesling, why "petrol" is a bad thing, and why Australia is a good place for Riesling.
In switching to screwcaps have you replaced one problem, TCA taint, with another problem, reduction?
Yes, in a sense. But in the main, I think we've managed the reduction problem by changing our yeasts and by making sure the wines are scrupulously clean when we bottle. Now, having said that, we can bottle a wine under screwcap–and we're talking here specifically about Riesling–and the wine is perfect and then at two or three years of age, as was the example today with the 2005 Steingarten, which is now four years old, and it's starting to develop a characteristic that we think is reduction, certainly it's sulfur related. And it's coming up now. Why is it coming up now since the wine's been wonderful for three years (and we know that from experience that it will disappear in two or three years)?
There are things going on in Riesling because of the very anaerobic way that it is made from juice all the way through that create these problems. The interesting work that's going on now is the research to understand it. We've now got Chardonnays with five or six years under screwcap and none of these problems appear yet we know that we are using yeasts that are far more prone to producing hydrogen sulfide or what have you. The significant difference we don't think is varietal but is the fact that the chardonnay is then put into barrels for six months for a slightly more…exposure to air in the maturation that was probably a similar thing that used to happen when we used a cork. So we need to understand what it is that we need to oxidize so that we don't have this problem occurring in Riesling.
The decision to go to screwcap is still 500% correct. We do need to discover what it is that's going on. Some plastic chemists have suggested that we select at the moment the most impervious plastic films that separate the tin layer form the wine. Maybe we need to use a plastic film that has a transmission rate selecting a transition rate of oxygen or air that more assimilates what might happen with a cork. That seems to us not a good solution; we would have to oxidize our wines.
Another approach is to do something that more emulates a cork. Is it associated with something physical, like pushing the air in the headspace with the insertion of the cork? Another theory says that's wrong because using a cork you can sort of flush the headspace and put a cork into a supposedly neutral atmosphere. Whereas how do you flush screwcap because you've got this container full of air that your dropping over the top? So people are now trying around, flushing the caps with nitrogen. I'm don't think that's not the issue. I'm sure it's more related to oxidizing. We know you can get rid of a lot of things in wine with sensible oxidation at the juice stage.
What's your favorite amount of age to enjoy a Steingarten Riesling?
From about ten years onwards. They're fascinating as young wines more because you can see the potential. They're very minerally and reasonably closed. 2005 was a wonderful vintage for riesling in Australia and I reckon that in about five years, that wine is really going to hit its straps. You get a toastiness coming in and a real honey effect which is fruit sweetness and nothing to do with sugar but the minerality remains. So you've got this lovely contrast between toast, which in a sense is rich, honey, which is rich, straw, which is pronounced all contrasted with this extreme minerality. Younger wines are all about perfume–citrus blossoms coming through.
Why is a petrol a derogatory descriptor for Riesling Down Under?
Well, we talk about kerosene, because we know that when it comes in, it is a function of oxidation. It starts to progressively take over, one, the fruit flavor, or also the toasty, straw characters. There are two different things: what you talk about as petrol, we probably talk about as flint and minerality. Whereas the kerosene character that we talk about is something that develops further down the track.
Why is Australia a good place to grow Riesling?
Part of it is historic. The Barossa Valley was settled by German refugee immigrants–they weren't wine people but they became wine people and the first vines they planted were Riesling. So there's a long tradition with Riesling. When phylloxera went around the world in the 1880s, Australia put an embargo on any vines coming into Australia that wasn't lifted until 1969 and even then, under very strict conditions. And we had as our significant white varieties Semillion and Riesling. So we grew up making and drinking Semillon and Riesling.
Given our climate, Riesling is a very difficult variety to produce. There was always extreme care taken by winemakers in making Riesling and to a lesser extent, Semillon. By natural site selection, people quickly found that they hilly bits were the right places to grow if you wanted to get these flavors. When Chardonnay came through in the 1980s and swept over Riesling people pulled out Riesling vineyards. But there was always this belief that Chardonnay was a nasty experience that was going to disappear and everyone would come back to their senses and drink great Riesling again! So the best Riesling were always kept. And most of the best vineyards were owned by proprietary winemakers, rather than individual grape growers, since they weren't under the same financial pressure to pull them out.
So the Riesling vineyards that are left in Australia, most of them are reasonably old, and their also in very good areas. Riesling is the simplest wine to make but it is also the most challenging since if you make a mistake, you just can't hide it. Put all that aside, dry Riesling have to be one of the greatest drinking wines in the world!
[Incidentally, he also mentioned that they have held back two palettes of 1996 Steingarten Riesling for worldwide release of a mature Riesling. (find this wine)]
Photo via Wine Australia