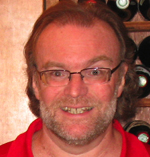 We're back with Part Deux of our interview with John Gilman, author of the newsletter A View from the Cellar (part one is here). John has offered a free issue from his backlist to any Dr. Vino reader so surf on over to his site and check it out. In this part of the Q&A, I had intended John to give a quick thumbs up or thumbs down on a number of hot-button issues in the wine world today as well as some things that I've heard him express unusual views about. In case you thought you were done gorging during the holidays, you can now feast on John's 7,000+ words in this second part. So buckle up and get ready to hear his thoughts on what's wrong with Riesling from Austria and Australia, screwcaps and their problems, the Loire, California cab then and now, indigenous yeasts, roto-fermenters, small oak barrels, wines over 14% alcohol and why he uses scores!
German Riesling
To my mind this is clearly the most singularly misunderstood and underappreciated region for great wines in the world. Even in their own country the wines are not really appreciated- most younger Germans interested in wine would prefer to drink pinot grigio. The strides made with dry rieslings by producers such as Klaus-Peter Keller and the like are helping the wines get a bit more of a hearing in Germany these days, but the traditional, off-dry styles are still wandering in the dessert looking for a fan base. And I really don't understand why. The wines have everything- magical complexity, profound individuality, a brilliant ability to age gracefully and they are not expensive- what more could one ask for? They go great with the right kinds of food- Asian-inspired dishes, turkey or just hanging out with a cheese board after a tennis match. And yet, so many producers struggle to sell each year's production through the pipeline, and really continue to make the wines as a labor of love. It makes me ill to think of a great producer such as Hanno Zilliken, crafting some of the most magical elixirs to be found on this gray earth, and he has as backlog of older vintages for sale that is simply unimaginable, while Michel Rolland marches through the world of wine like Sherman through Georgia, and everything he scars sells like hotcakes! I just don't get it.
Austrian Riesling
I have a profound respect for the best producers of Austrian wines, but simply cannot drink the best examples anymore, as the wines are just too hot for my palate. I have had some absolutely magical bottles of Austrian wines, but all from older, pre-climate change vintages. As things stand now, I think Austria is one of the big losers in global warming, as the best wines these days are all over fourteen percent in top vintages, and no matter what they do, they cannot escape that uncovered alcohol on the finish. And I cannot think of any instance of a high alcohol white wine (and very, very few reds for that matter) that has aged gracefully. The lower tier wines are better, as they simply do not ripen as well, but the best sites are just not turning out great wines to my palate in the top vintages with the current viticultural and winemaking methodologies. And there is no way that one can make a lasting legacy of great wines hoping for "off vintages" and emphasizing the lower tier bottlings. I really think that the top Austrian winemakers have to start thinking about how they can reign in the ripeness in their top sites these days. Everything else is in place for greatness- brilliant terroir, old vines and a great tradition, but these have to be synthesized into the unfortunate new realities of global warming, and in my experience, the Austrians have still not made that leap. Don't misunderstand me- there are still plenty of superb Austrian wines made year in and year out, but the crown jewels in terms of vineyards and bottlings have been way over-praised to my mind in the last decade, as the wines simply carry too much alcohol to ever meet with greatness.
Australian Riesling
Because of the Aussies' love affair with screwcaps- particularly for their riesling bottlings- I really have not paid any attention in the last decade. In my opinion, the closure is fatally flawed as it is used today, and I find it inexcusable for so many winemakers and winery owners to try and sweep the flaws under the rug instead of 'fessing up that they were screwed by the early propaganda and half-assed research- that the screwcap technology is still not ready to gracefully age wines- and switch back completely to corks until a time when the alternatives are really ready. Instead, we have all this "copper fining" BS- adding heavy metals to the wines so that they can use a flawed closure system is in my opinion just asinine and ethically bankrupt- and every other sort of winemaking manipulation ever conceived by man to try and get the wines ready to seal up under screwcap. Of course the jury is still out on whether or not adding huge doses of copper sulphate to the wines pre-bottling is safe for those consuming the wines, but I for one am not about to be the guinea pig on that score.
But beyond my rant on whether or not all these "treatments" (rather an Orwellian use of the word) that the Aussies put their wines through are safe, there is little doubt that copper finings and the like do strip out much of the character of the wines, and are still completely ineffectual and simply put off the day when the wines go into permanent reduction under screwcap and are ruined. How do you make a screwcap-sealed wine taste and smell like rotting cabbage or burning rubber- put it in the cellar for a few years. They almost all get there over time. But the damage starts faster than that- were you at the big Penfolds' tasting here in New York a couple of months ago? Their 2007 Bin 51 Eden Valley Riesling was a perfect example of just how insidious screwcaps are for wine- this wine received 90 points from Josh Raynolds in his International Wine Cellar review in the September-October '08 issue, and Josh has a great palate. By the time we tasted the wine at the end of October it was already obviously suffering from sulphate reduction- it was overtly mineral and borderline metallic on the palate, and about as short on the finish as a wine could be- classic reduction symptoms. About as classic an example of a 75 point wine as I have come across in some time. Now most wine drinkers would not recognize the symptoms of sulphate reduction in the wine- this was a journalist-only event and I did not hear many comments about the reduced aspects of the wine when it was served- and most would just assume that Penfolds cannot make riesling worth a damn.
So when the Aussies regain their senses and start using corks again- warts and all, and I am no great fan of TCA-tainted wines- not to mention all of the premature oxidation issues with recent vintages of my beloved white Burgundies, which in my opinion may well be cork-related- then I will start tasting Australian rieslings again in-depth. But really, what is the point of tasting a wine young that you strongly suspect is going to crash and burn quickly because of its closure? By the way, the 1999 Penfolds Eden Valley Riesling served at that same tasting from magnums (sealed with corks) was stellar, and shows that the potential for this grape is very high in Australia, but the whole wine industry down under (and New Zealand is every bit as large of an offender on this score) has got to deal with the screwcap issue first. Until that time I am not prepared to invest much time and even less money in what is going on down there.
The Loire
I have always loved the wines of the Loire Valley, and I fell in love with the region during my first visit back in 1989. It is a beautiful area of France and the wines have this wonderful, laid-back character that perfectly matches the bucolic settings and the people that live there. To my palate they have been one of the big winners with global warming- at least thus far- and the wines here have never been better than they are today. This is particularly true of the Loire Valley reds, which used to really struggle to ripen thoroughly. Back in the old days one or two good red wine vintages were all the vignerons were blessed with each decade, but now they are making good wines in almost every vintage, and great wines at least four or five times a decade. And for the most part these are classically made wines, without a lot of oak or micro-oxygenation or cryo-extraction- just unadulterated, classic French wines from great terroirs and noble grapes. Wines from people like Bernard Baudry, Pierre Breton, Clos Rougeard or Domaine Filliatreau are simply world class and cellar-worthy wines that compete well with anything out there on the market, and once again, they offer stunning value. But the Loire is close to Bordeaux, so you still occasionally find the proprietor who is trying to emulate what is going on these days in St. Emilion and tarts his or her wine up with a ton of unsupportable new oak and heavy extraction, but these are becoming fewer and further between, as more and more growers here embrace their own fine vinous heritage.
On the white wine front things in the Loire are equally exciting these days. Sancerre in particular is just overflowing with brilliant winemakers, and there are tons of great sauvignon blanc wines being made in less well-known places like Menetou-Salon and Quincy as well. Losing Didier Dagueneau at such a young age was a tragedy, but he did so much over the course of his life to inspire producers of sauvignon blanc-based wines to aim for the stars that his legacy will be with us for a very long time. And in chenin blanc country in the Touraine, this is a true renaissance, with legendary wines being made in Vouvray and Montlouis from the likes of Domaine Huet, François Chidaine, Domaine Foreau, François Pinon and a host of others. Savennières has several top estates making great dry chenin, and the back roads of the greater Touraine, Coteaux-du-Loir and Anjou regions are just raging with eccentric producers and their eclectic lineups that are pushing the envelope with grapes like gamay and pinot d'aunis in addition to making brilliant chenin-based wines. Producers like the Puzelat brothers, Eric Nicolas, Pascal Janvier, Olivier Lemasson, not to mention the indefatigable folks at Clos Roche Blanche are turning out so many stunning wines of character and breed that I cannot keep up with them all. And when you factor in what is going on in Muscadet with Domaine de la Pépière and Domaine Luneau-Papin– where they are making the most brilliant wines in the centuries-long history of the region- it really is the golden age of Loire Valley wines.
California cabs from the 70s
As Joni Mitchell once penned, "you don't know what you've got 'til it's gone." It is somewhat ironic that I have become one of the big proselytizers in regards to these wines from the 1970s, as I spent much of the latter half of my career in the wine trade selling wines other than Californian, and really had fallen out of the loop with what was going on in wine country on the west coast. Partly this was out of necessity, as my business was handling old and rare wines, and Burgundy, Bordeaux, Champagne, classic Piemonte and Rhônes were the core of my business in those days. But also, I had become quite disillusioned with the Helen Turley school of winemaking, with the excessive alcohol, residual sugar, heavy battering of the wines with a fusillade of new oak and commercial yeasts designed to give everything the same couple of flavors- which were adding up to my palate to boring, top-heavy wines without soul. By happenstance I was invited to an older California cabernet tasting a few years back- it was a remake of the famous 1976 Steven Spurrier tasting in Paris, so this must have been in 2001 during the twenty-fifth anniversary of the epic event- and I was really knocked out by a number of the California wines served at the tasting. I had cut my teeth on many of these wines in my formative days in the wine trade, and I was surprised that the wines had held up so well and were every bit as brilliant as I remembered them from back in the day.
A few years later at a friend's fiftieth birthday, we were doing a "pot luck" tasting where everyone had to pull a great bottle or two for the occasion, and someone brought the 1974 Mayacamas cabernet– which was just magical. That was it, I was hooked again on these wines, and I have spent the better part of the last three years tasting and writing about them whenever possible. There are simply so many great, great wines still out there from this era that have aged brilliantly and simply tower over what is being produced today, and yet they have fallen out of fashion and most commentators cannot talk about them at all with any degree of intelligence. It is really sad, because wine, if anything, is an historical art form, and really has no meaning outside of its historical context. And yet, here you have this huge pool of brilliant wines from the decade of the 1970s, and the 1960s and 1950s before that, and very few people in the California wine trade can tell you anything about them. The same sort of modern myopia would be unthinkable in places like Burgundy, Bordeaux, Piemonte or the like, but in California it seems that it is perfectly acceptable to collectively turn their backs on their own winemaking heritage. I often wonder about this.
California cabs from the 2000s
Now you are into a realm where I am really out of the loop these days- mostly by design. When I was studying political science back in my university days, I had a great professor named Anthony Lake, who had been on Kissinger's staff before resigning over the invasion of Cambodia, and who later resurfaced as Bill Clinton's National Security Advisor. Professor Lake liked to talk about the concept of "group think" (a phrase coined by his friend, Leslie Gelb, I believe), in which bureaucratic circles begin to all share the same assumptions and world view, and consequently all begin to distort reality in the same manner, leading to faulty analysis and projections. To my mind "group think" is the standard operating procedure in most areas of Californian wine country today (with a few notable exceptions), and most of the wines that I cross paths with share the same "cookie cutter" pattern: overripe fruit flavors, tarted up with the same commercial yeasts to produce the same spread of flavors, the same fashionable, obliterating French oak from the über-fashionable tonneliers and the same mind-numbing levels of high alcohol.
It seems like almost all of the wines are overseen by the same couple of consultants- Michel Rolland, Helen Turley or their posse, and I taste very few that seem worthy of standing in the shadows of the great wines fashioned in the 1970s and before. To my palate I can taste the McDonald's mentality at work in most of these wines- engineering the flavors and aromatics to hit just the right sweet spot out of the blocks, and if it ends up being bad for the long-term health of the wine, who cares, because "we just need to move the new vintage through the pipeline". To be fair, global warming has not done these folks any favors, but instead of addressing the very real problems presented by climate change, the powers that be have come up with this very convenient philosophy of "physiological ripeness" which allows them to let the grapes hang on the vine and bake away until the resulting wine will be a cross between grappa and boysenberry syrup. All you need to know about the winemaking philosophy out there at most places these days is with their having to water down most wines before letting the fermentations start (literally turn on the hoses and filling up the vats with water to try and cut down on the potential alcohol in the wines). Perhaps there is a problem with the methodology, no?
Rhône today
It's funny that you ask me about the Rhône today, as I am in the midst of a large project on the region for my newsletter and have been awash in their wines for the better part of two months. If you would have asked me the same question two months ago, I think my response would have been different than it is today. To my thinking there seems to be more to hope for down the road here than was the case four or five years ago, as I seem to discern the first signs of some reigning in of the winemaking excesses that have plagued the region since at least the 1995 vintage. How to deal with global warming is still a big factor here, and until a new, universal approach is developed to the attendant issues of excessively high alcohol levels and stewed, overripe fruit tones, the region will continue to be a bit of a mine field for those with a palate looking for wines that do not stun or sear the tongue. But I see plenty of positive signs that at least some vignerons are starting to think seriously about the over the top style that has been championed for the last decade or more.
In the northern half of the region, the big problem to my mind has not been so much the climate change (though it of course has played a role here as well- just not as profoundly as in the south), but the stylistic chasing of Marcel Guigal. Guigal burst on the scenes in the late '70s with his very new oaky, much more heavily extracted styles of wines (particularly in Côte-Rôtie), and his attendant commercial success caught the attention of most of the other growers in the north. You have to remember that in the late 1970s when Marcel was really getting going, the Rhône was a vastly different animal than it is today, and the wines sold for next to nothing and wine was hardly a profitable business. All those steep, terraced vineyards had to be worked by hand, and with prices so depressed for the wines (most Côte-Rôtie was just drunk up by the "pichet" in the cafés in Ampuis those days for pennies a glass), it was awfully hard to make ends meet if you were the vigneron. There were abandoned vineyards everywhere, the younger generation was leaving en masse for better paying and less arduous jobs elsewhere, and it really looked like this area, where winemaking goes all the way back to Roman times, was on the verge of eventual distinction. As late as 1988, fully half of a great vineyard like La Landonne was fifty percent fallow!
Marcel Guigal came along and changed all that- almost single-handedly! There were of course other great producers in the north at this time: Marius Gentaz, Gérard Chave, Gérard Jaboulet, Noël Verset and Auguste Clape to name just a few, but it was Monsieur Guigal that caught the wine world's imagination and pulled everyone else up with his boot straps. And we cannot forget the great service Robert Parker did at this time championing the best of these wines. The northern Rhône was saved, or at least its threat was transformed. At least people could make a good living making wine again, and a lot of the overgrown vineyards were reclaimed. The problem was that the Guigal wines, as good as they were at this time, were not particularly representative of the deep traditions in the region. People started to use a lot more new oak- emulating the Guigal wines perhaps- and not always with the most flattering results. Reclaimed vineyards also means young vines, and there is an awful lot of young vine wine made in the north these days, and with demand high, there is little incentive to reign in yields of these younger vines. So what one gets confronted with this young vine fruit that lacks concentration, and consequently has to be "monkeyed" with in the cellars to try and hide this fact. Or one harvests extremely late so that there can be a bit of residual sugar and higher alcohol to give the impression of depth, and of course new oak can also help with this. But with global warming, late harvesting means overripe flavors, zero acidity and really heady alcohol, all of which require more manipulating of the wines in the cellars, and often also translate into wines that do not age well in the bottle.
So there have been some pretty serious speed bumps in the north in the last fifteen years, and there were some very notable failures in the vintages of the mid to late 1990s. But it seems that things are swinging back towards the more traditional styles in the north, and of course the vines are getting older in the replanted sections, which means that a lot of producers are getting much higher quality fruit with which to work. The bigger firms still seem lost in the wilderness to my palate- Chapoutier, Guigal and the like, but many of the smaller growers are really starting to make exciting wines in the north. Amongst my favorites here is Éric Texier, who is doing simply brilliant work in the north. Cornas is another town that I see as at the beginning of a renaissance- it was kind of left behind when all the hoopla reached Hermitage and Côte-Rôtie in the late 1980s and 1990s- but there are some really good growers working here now, the most famous being Thierry Allemand. And I taste more and more serious examples from the "satellite" regions like Crozes-Hermitage and St. Joseph, not to mention the re-discovery of an appellation like Brézème- where Éric Texier is making brilliant wines- all these things point to good news in the not too distant future in the northern half of the Rhône. I don't think that the "big boys" have figured it out yet- but they will in good time.
However, the southern half of the Rhône is another world, and global warming has really been throwing its weight around here. The incidence of ludicrously alcoholic wines is legion in Châteauneuf du Pape these days, and all of the other over the top winemaking excesses that have equally scarred other regions have wreaked havoc in the south. But one of the biggest plagues in the south these days is the huge expansion of syrah plantings in the vineyards here- not just in Châteauneuf du Pape, but also throughout the villages of the Côtes du Rhône. Syrah is just patently ill-suited to the warmer southern half of the Rhône at the best of times (and this is really exacerbated by climate change), as the grape's sugars soar in the baking heat of the south before the skins, seeds and stems ripen fully, translating to wines that are both overly alcoholic and taste green from the unripe skins etc. And if the vigneron lets syrah hang long enough to ripen the skins, you get wines that are really horrible tasting, and with potential alcohol in the seventeen or eighteen percent range. Very macabre stuff. But what you do get with all this syrah being incorporated into the traditional blends in the south is dark color- black-purple wines. And here, Robert Parker has undone a lot of the good he previously did for the region by blindly praising these wines.
But there is good news in the south as well. There are several villages that are high up in altitude- for example, Cairanne and Vinsobres immediately come to mind, and here one can still make terrific wines. I just had a couple of Vinsobres bottlings from the owners of Château de Beaucastel, the Perrin family, that were flat out brilliant. There are also some real holdouts in the Châteauneuf region as well, led by Éric Texier, who makes simply stunning, old vine Châteauneuf du Pape from a blend of grenache and mourvèdre (no 17% syrah for his wines), and the wines of Château Mont-Redon are also just textbook, classic examples of the appellation that harken back to the pre-madness days of the 1980s and 1970s. You also have one of the biggest stars in Châteauneuf, Henri Bonneau, who absolutely hates syrah's results in the south, and refuses to use any in his wines. There are probably many more that I simply have not tasted of late, because it is very hard to find more traditionally styled southern Rhône wines in the US market. Importers have told me off the record that such wines cannot generate high enough scores amongst the most influential American wine critics, so they will not sell well, and importers simply leave them behind rather than bring them into this country. I like to think of folks like Monsieur Texier and the Mont-Redon proprietors as the "French Resistance" in the area, and hope that they can gain more recruits as time goes by.
Champagne
Champagne is in the midst of a major sea change, and I think that in the long run it will be all to the good for this historic region. The explosion of small growers making and bottling their own Champagne is unprecedented in the long history of this region, and this has profoundly changed how the big houses now make their wines. Some of the big houses are fortunate enough to own a large chunk of their own vineyards, but other of the "Grandes Marques" have seen much of their former good sources for grapes and/or wine strike out on their own, and they have had to scramble for suppliers to meet their needs. A lot of times this strain has forced the big houses to cut corners a bit- maybe sell a non-vintage bottling a year earlier than they would have in the past, or include some production from lower tier vineyards that they would have deemed of insufficient quality to be included twenty-five years ago, or increasing a bit the dosage to make a slightly sweeter-styled non-vintage to try and cover up some of the side effects of points one and two- all these types of occurrences have been pretty readily visible if one has paid enough attention to the Champagne market in the last several years. Certainly the recent expansion of the area in the AOC for Champagne is one attempt to try and create a bit more production for the Grandes Marques to work with.
But to my mind, most of the Grandes Marques have done an admirable job in keeping up their quality in the face of these rather seismic changes in the region. Maybe the Veuve Clicquot non-vintage Brut is not as good as it was twenty years ago, but it is still a pretty impressive drink for something made in such a large quantity. And given just how potentially debilitating some of these supply issues could have been, they have really done a remarkable job with their top cuvées, which are every bit as profound as they have ever been. And while the big houses have been adjusting to the new realities in the market, the most exciting aspects of the changes in Champagne have been at the level of the small, grower-récoltant producers, who have struck out on their own and stopped selling off the bulk of their production to the Grandes Marques. There are now dozens and dozens of small producers making absolutely brilliant Champagne, and I have greatly expanded my own cellar of bubbly with the inclusion of my favorites from this genre of producers. I should be quick to point out that I am a pretty tough judge on a lot of these grower bubblies, as to my mind any wine from this region has a responsibility to remain true to the inherent and historical elegance of Champagne, and to my mind there are plenty of examples from small growers that do not meet this requirement.
However, the best small growers do indeed provide very elegant and sophisticated bubbly, and what is one of the finest attributes in this respect, is due to their smaller scale operations, often their wines will be a reflection of the one village in which they work and hold vines. This has awakened a possibility of comparing and contrasting the various terroirs of Champagne- say for instance the dramatic difference between the brilliant, pinot noir-dominated wines of someone like Bernard Brémont in Ambonnay and the very classic Blanc de Blancs of Vazart-Coquart in Chouilly. A generation ago, both growers' wines might have been purchased by Taittinger and ended up blended together. In this respect things are very, very exciting right now in Champagne, though one has to be intrepid enough to buy the smaller growers' wines, rather than just cop out and reach for the all too predictable bottle of Clicquot on your merchant's shelves. And this extends to the wine merchants themselves- too many in the US and France treat Champagne simply as a commodity that needs to be stocked, and put together a selection of the familiar Grandes Marques and let the bottles sell themselves. This is one of the reasons so many merchants sell the vast majority of their Champagne around the holidays, because they put no effort into understanding the region and its changing ways. But I drink Champagne at least a couple of times a week- for an open bottle with a good stopper in the fridge maintains its freshness better than any other wine I can think of- and would never think of not having a bottle chilled at all times. So I need to be more fully able to dip my beak in the great mosaic that is Champagne today, and would never want to limit myself to just a few brand names.
Wine scores
There is too much scoring in baseball, and too little in soccer! As far as wine scores go, I am a man of my era, and my burgeoning interest in wine coincided with Robert Parker's ascension in the world of wine criticism, so I have been living with wines being scored most of my wine-drinking life. Mr. Parker is actually the person who really got me interested in wine, as I can recall reading his journal in its earliest days (which coincided with my university stay) and dreaming about how great it must be to taste all these monumental, historical wines. So in this respect, I really do not have any problems with the scores. I certainly have at least as many issues with the prose of some wine writers these days as with their scores- style books anyone? But where I think scoring of wines has gone really off track is with the so-called "objectivity" school of wine criticism. Look, a critic's job is to be subjective, not objective, and this is true in art criticism, food criticism or wine criticism. Tell me what you think about X, why, and if I find over time that our aesthetic perceptions coincide, then you are the critic for me. But too many wine writers these days try to hide behind the rubric of objectivity, claiming that even though the wine sucks, it is technically not a flawed wine, and therefore it should at least merit an 89 point score! To my mind that is just a cop out.
In the end all the objective approach does is squeeze everything into a very narrow range of numbers, where meaningful differentiation between the various wines becomes next to impossible, unless one reverts to the prose, which I think we already touched upon. When I read in the past about a wine with which I was unfamiliar, what I wanted to know most about was the style of the wine, as for me this is the most important determinant as a consumer if I am going to go out and buy a bottle from a producer that I have never tasted previously. I mean which would you rather drink- a passably good example of a wine that tastes like kissing Bridget Bardot in her golden youth, or a brilliantly-executed wine that has the palate impression of a Monster Truck collision in your mouth? Scores alone are not going to make this distinction for you- particularly from the camp of "objectivity". But at least a subjective approach to scoring will fully prepare you for the mysteries on the other side of the cork- whichever you prefer is your business.
wine over 14% alc
If you had said fifteen percent, this would have been easy! In general I think it is important to realize that history has not been kind to wines put in the cellar with high levels of alcohol, other than fortified wines, but that is another story. For non-fortified wines, high alcohol usually translates into either a short cellar life or a less than positive evolution in the bottle- or both. There are of course exceptions- Henri Bonneau's brilliant Châteauneuf du Papes immediately come to mind- but these are exceptions. For the vast, vast majority of wines, lower alcohol wines have traditionally aged longer and better. Part of this equation of course is that lower alcohol wines, having started with lower sugar levels in the grapes, generally start out life with higher acidity. I have been drinking wine a long time now, and it is pretty clear to me that acidity is the cornerstone to a wine's ability to age gracefully for a long period in the bottle and remain fresh and vibrant. And wines that age well are the ones that interest me the most. The transformation that a wine undergoes with bottle age is still one of the mysteries of wine- how it improves, what chemical reactions are taking place- all of these things are still unknown even with our advanced levels of science. But if the key fundamentals are in place in the wine when young, we do know that the wine will change and evolve and become more beautiful with age. And one of these keys is sound acidity.
When one thinks back or reads about the legendary Bordeaux wines of the first half of the twentieth century- the 1945 Mouton-Rothschild, the 1928 Palmer, the 1929 Latour or the 1900 Margaux- one of the glaring things that so many commentators fail to mention is how low in alcohol these wines were back then- probably between eleven and twelve percent, and they came from ripe vintages in those days! One of the chief reasons that they lasted so long was specifically because they were lower in alcohol- balanced wines that were able to stand the test of time. As Monsieur Bonneau has emphatically proven, it is not impossible to balance your wines at high degrees of alcohol, but it is a hell of a lot harder to do it, and for every Monsieur Bonneau who has been able to succeed with his formula, there are thousands who have tried and failed miserably. A perfect example of the differences between higher and lower levels of alcohol are the 1947 and the 1949 Cheval Blanc- both great wines, but the headier, almost Port-like 1947 is nowhere near as interesting to my palate as the lower alcohol, hauntingly ethereal 1949. I have been fortunate to drink both wines on several occasions, and even once had them served side by side in the same flight at a memorable dinner, and I would be willing to argue that the beautiful 1949 will in the end prove to be the longer-lasting and ultimately more interesting wine. And let me be the first to tell you, not every high alcohol wine is a 1947 Cheval Blanc in the making- no matter what you read elsewhere!
I think that today high alcohol is one of the worst plagues in the world of wine, as it virtually guarantees that the wine in question will not stand the test of time in bottle. A lot of people might say "so what", I want to drink my wines younger anyway, so what do I care about higher alcohol. Other than driving home from the dinner party, they may have a point. As long as there remains plenty of cellar-worthy, lower alcohol wines for those of us who want to age our wines, then it should not be a problem. In other words, if each individual wine exists in a vacuum, outside of the temporal world in which we live, then there is plenty of room for both kinds of wines. But the reality is that the new car in the driveway of the vigneron who let his grapes hang out on the vine until they were ready to fall off, and consequently was able to get a higher score (and more money) for his wine because some critic was suckered in by the black-purple color and the sweet, warming effects of alcohol on the palate which gave the wine a consistency of motor oil, then the odds are that a few vintages down the road, all of the nieghbors will be vacationing in September and picking their grapes in late October to try and make the same money and drive the same cars. That is just the way the world of wine works today, and consequently, the high alcohol wine that someone else likes will eventually threaten the extinction of my lower alcohol wines that I want to cellar for twenty years.
new, small oak barrels
Contrary to my reputation in some circles, I really do not mind wines with a lot of new oak. A perfect example are the Burgundies of producers such as Henri Jayer and Domaine Dujac. Both estates make (or made in Monsieur Jayer's case) their wines almost entirely in new oak, and yet they are two of the finest producers of wine that I have ever had the pleasure to taste. But it is extremely hard to use a high percentage of new oak well, and it takes any extremely skilled artist in the cellar to be able to consistently pull this off. Unfortunately, there are not a whole lot of producers with as much skill as Monsieur Jayer had during his lifetime. Too often, new oak dominates the other characteristics of the wine, both on the nose and the palate, producing in a best-case scenario a one dimensional wine that derives many of its flavors and aromatics from the wood. And the worst-case scenario (all too familiar to those of us who taste a wide range of wines these days) is that the new oak has been imperfectly cured, and has leeched raw, resinous tones into the wine, which come across as sawdusty or resinous on the palate, and add so much raw wood tannin to the wine as to upset its balance. This condition is usually terminal- as the wine is too tannic from the wood to drink with much enjoyment when young, and spends its life stillborn and rigid from the oak, and eventually withers, with the fruit giving up the ghost while the wood tannins remain obstinately present. For those who are familiar with the New York subways, wines from the worst-case scenario camp are like two riders getting onto separate trains at Grand Central Station, with the fruit getting on the Express and the oak getting on the Local. After a short time, they are never going to come together again, and the fruit on the Express is going to be long gone by the time the oak arrives at the mutually agreed upon destination.
roto-fermenters
You mean paint shakers for Barolo? Roto-fermenters are just a flat out disaster. They manage to obliterate every ounce of terroir in the wine, and often can suppress the varietal characteristics as well. The dumbest thing about their use in Piemonte is that the biggest practitioners of their use will tell you that they need to use them to "tame the traditionally intransigent tannins of the nebbiolo grape", and then of course, after beating the living daylights out of their nebbiolo with the roto-fermenters (to tame the tannins, remember), they will age their wines in new, French oak barrels, and infuse the wine all over again with new tannins, this time from the wood. So let me get this straight, the idea is to destroy the wine's terroir and varietal character (a sad, but necessary side effect) to tame the tannins in the wine, and then we are going to leech in a ton of wood tannins (that will never integrate with what is left of the fruit in the abused wine) which in effect replace the tannins we removed at the price of the original character of the wine? Who writes this stuff?
Indigenous yeasts
The longer I drink, taste and write about wine, the more I am convinced that indigenous yeasts are a key fundament of great wine. It is not that it is impossible to make great wine with commercial yeasts, but these have to be strains that are engineered to be as unobtrusive and "transparent" as possible, so that the natural beauty of the wine that originates in the vineyard can be reproduced as faithfully as possible. But even the cleanest and clearest commercial yeast is not, in my opinion, going to quite match the complexity that comes with using indigenous yeasts. And most commercial yeasts these days are not engineered (or selected if you prefer the term) for their transparency, but rather to deliver specific flavor or aromatic spectrums in the wine, or more and more often, to be able to survive at higher levels of alcohol before dying off and ending the fermentation. It used to be that no yeasts could survive in solutions with alcohol above fifteen or so percent, but when you are trying to make a black-purple wine so that you can buy a new, black-purple Mercedes SUV, you need a "Rambo" yeast to do the job- one that can keep the fermentation going to sixteen and a half or seventeen percent. Otherwise, the winemaker is going to end up with more residual sugar than he or she desired (one of the dirty little secrets of the high octane school is that they are always looking for some residual sugar in their ostensibly "dry" wines), which may or may not effect which model of Mercedes they can buy when the new scores come out.