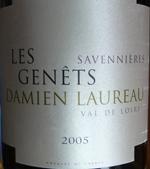 Chenin blanc is one of the world's most underrated grapes. Beautifully multifaceted, it displays multiple forms: dry, off-dry, sweet and sparkling. It can tack on decades effortlessly. Here are a few more-or-less current releases that I have had recently (all on separate occasions) that are worth noting. (Search for these wines at retail.)
Domaine du Closel, La Jalousie, Savennieres, 2006. $18 I poured this wine with some apprehension at an event for 75 people recently. Would the gathered crowd "get" the wine? In fact, the color alone got them, as the golden wine appeared in their glasses. I polled them after tasting, and to my amazement, only two people disliked the wine–chenin blanc with such low negatives, it could run for office!
Domaine Laureau, Savennieres: Damien Laureau, aged 39, is not only the father of six children but also an up and coming star of the Savennieres appellation. Although he owns no vineyards in the appellation, he has long-term leases on two that he farms organically. I recently had the 2005 Les Genets bottling, which is aged for 18 months in vat. The wine is deliciously aromatic, layered, and complex on the palate and has the kind of lingering finish that tingles even your bones.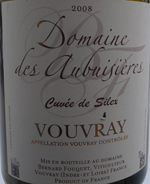 Domaine Aubuisieres, cuvée de silex, Vouvray, sec, 2008 $18: really a gorgeous example of chenin–and a good value too. Enticing aromas of honey and white flowers, delicious mouthfeel combining acidity and minerality in a wine with six grams of residual sugar, barely above the threshold of perception. Bernard Fouquet, somewhat controversially, bottles this wine under screw cap but my bottle was not showing any sign of reduction.
Francois Pinon, cuvée tradition, Vouuvray 2008. $17. Another great value Vouvray. I really liked the 2007s, so was a bit disappointed how closed and tightly minerally it was on day one. But on day two, the wine really opened up and was soaring. Although it's not labeled as demi-sec, it is and has a superb texture. Also of note: Pinon's sparkling Vouvray (now with a new label design) is a perennial excellent value at about $17.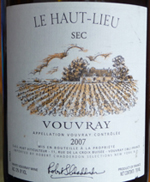 Domaine Huet, Le Mont, Vouvray, sec, 2007 $22.50: This legendary estate recently changed distributors and I picked up some bottles of this wine for an amazing price. The wine is really packed with minerality, acidity, medium weight, has an excellent arc and shows very well today since it has yet to hunker down for the long haul in the cellar. I'm doing a dinner for 200 next month and have put this wine on the menu, paired with halibut.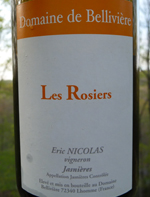 Domaine Belliviere, Jasnières, 2006. Along the northern fringe of the Loire, starting about ten years ago, Eric and Christine Nicolas have helped revive winemaking in the tiny appellation of Jasnières and surroundings. They have planted some new vineyards and also own some with over 50 years of age. (The two wines tasted here come from the younger vineyards.) The long, fluted bottles of Belliviere may make you think Riesling. But this is chenin through and through. The 2006 "Les Rosiers" (about $29) bottling is a serious wine and that possesses quite a layered structure mainly of the honey on rocks variety. Consider decanting. The 2006 "L'Effraie" bottling comes from the nearby Coteaux de Loir appellation and is slightly more accessible at this stage–I had it with a homemade spinach pizza and it worked well.