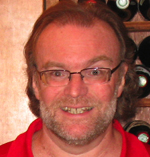 John Gilman is one of the people who I have enjoyed getting to know in 2008. He started his career in wine retail, later worked as a sommelier with a soft spot for Burgundy, and now has embarked on the foolhardy notion of writing a bi-monthly wine newsletter, A View from the Cellar. Except maybe he's not so foolhardy since, unlike a blog, he actually charges for his newsletter! Started in 2006, John has quickly won the respect of collectors and the people in the trade. He's often provocative and not afraid to call things as he sees them; one of my favorite parts of his newsletter is the "roadkill" section where he discusses bottles he's tried recently that were over the hill, mostly prematurely since they were made to attract attention in their youths but have failed to mature.
To give you a flavor of his preferences and picks, I asked him several questions via email. I broke it up in to two postings. In this first posting, John discusses what would be in his cellar if he were starting collecting today, what he drinks at home on a Tuesday night, the most underrated wines for aging, where Lafite 2005 will be in five years, and what would be his "desert island wine." Onward!
If you had no collection and were going to put $1,000 into, say, at least two cases of wines available now for drinking 10+ years from now, what wines would you include?
I would start with buying red wines, as I think one can always find something very, very interesting to drink with younger white wines, but younger red wines just cannot compare with reds with bottle age. Clearly one of the places to start would be with 2005 or 2006 Loire reds– they will age along the lines of a top-flight Bordeaux and offer tremendous value. The 2005s are a bit more massive in scale, but both vintages are stellar, and at this point I am not sure I have a preference for one over the other. The top of my list from this region would include Pierre Breton's Bourgueil "Clos Sénéchal" (find this wine), Bernard Baudry's Chinon "Clos Guillot" (find this wine), Charles Joguet's "Clos de la Dioterie"(find this wine), Philippe Alliet's Chinon "Vieilles Vignes" (find this wine)and the regular bottling from Clos Rougeard (find this wine). With all of these, other than the Clos Rougeard, we are talking in the $300 to $400 per case range here. I would also have to have some Burgundy, and the 2005 vintage in the Côte de Beaune is where the good values are to be found in plentiful quantities. These would include anything from Chandon de Briailles, Patrick Bize, Jean-Mark Pavelot and Camus-Bruchon in Savigny-les-Beaune, the "happy hunting ground" for red Burgundy bargain shoppers. A case of Joseph Drouhin's Beaune "Clos des Mouches" (find this wine)or Beaune "Grêves" (find this wine) from '05 would also be great to have. I might also be tempted to buy a case of the 2001 Mayacamas cabernet sauvignon (about $50; find this wine), which is one of the few wineries still making wines exactly as they were made in the 1970s.
What are the most underrated wines for aging?
As far as red wines go, Cru Beaujolais and Loire Valley reds are neck and neck for this honor. A great Morgon from the Desvignes family or a Moulin-à-Vent from Domaine Diochon or Château Thivin's Côte de Brouilly are brilliant wines with fifteen or twenty years bottle age on them. But it is hard not to get even more enthused with an old Bernard Baudry or Charles Joguet Chinon, or a Saumur from the Foucault brothers at Clos Rougeard. As far as white wines go, probably Vouvray or Montlouis, with an honorable mention for German rieslings.
On any given Tuesday evening, which wine's likely to be on your dinner table?
If its not a tasting night with samples, usually red Burgundy. These days I am drinking a lot of 1998 and 2000 village wines, from people like Christophe Roumier, Domaine Mugneret-Gibourg, Domaine Dujac or Jean-Marie Fourrier in the north, or Savigny-les-Beaune gems from Camus-Bruchon, Jean-Marc Pavelot, Simon-Bize or Chandon de Briailles. If I need a white, Trimbach Cuvée Frédéric Émile Riesling or a wine from François Chidaine in Montlouis is a good bet during the winter, and German wines from Hanno Zilliken, Helmut Dönnhoff or Willi Schaefer in the warmer weather. I used to drink a lot of white Burgundy, but with the premature oxidation problems of the mid-'90s, I don't have too much anymore to drink from Chablis or the Côte de Beaune.
Will a case of Lafite 2005 be higher or lower in 12 months? And five years?
Lower in twelve months, and lower again in five years. China has been almost single-handedly driving the Lafite market, and they are going to become more sophisticated with their wine tastes as they become more familiar with the beverage, and diversification there will help ease the price of the '05 Lafite over the coming years.
Best red Burgundy under $30?
Domaine Lafouge Auxey-Duresses rouge- either of their two premier crus are stellar- La Chapelle or Climat du Valle (find these wines). Domaine Coche-Dury's Auxey-Duresses should be another candidate, but I don't think it can still be found under thirty dollars these days.
What's a top wine experience you had in 2008 where the context mattered as much as the wine?
A pair of retirement dinners with Jacky Truchot- one in Burgundy and one in the Washington D.C. area. Monsieur Truchot and his wines meant a lot to me personally, as his were the first great Burgundies I ever tasted, and on my first visit to the region, he and his wife Liliane actually put me up with their American importer. Jacky was the great unsung maestro of Morey St. Denis, and a man that did not really gain recognition for the brilliance of his wines until very late in his career, and yet never shied away from doing the right thing and making the very best wines possible. By the way, we did drink very well at both of his dinners.
You're on a desert island and you could drink one last wine again, what would it be?
Good question. Probably the 1945 Comte de Vogüé Musigny "Cuvée Vieilles Vignes", provided you could guarantee provenance to a condemned man stranded in the wilderness. The good bottles I have had of this wine are forever etched in my memory for their magical complexity, haunting perfume and ethereal palate impression. The first bottle I ever decanted of this wine simply filled up the room with its bouquet the minute it hit the glass- candied cherries, wild strawberries, orange zest, kaleidoscopic, autumnal Burgundian soil tones, coffee, woodsmoke and liquid roses. On the palate the wine was perfect- silky, dancing and still quite full, with an intensity of flavor that is unforgettable. Unfortunately, I have had a few bottles that were a bit bound up and malty as well, so you have to promise perfect storage!