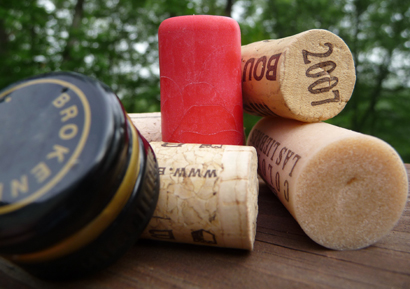 A few weeks ago, the Wall Street Journal ran a story about Nomacorc, a producer of synthetic corks. The story ran a graphic depicting market share by closure type, with data from Nomacorc. Corks were listed at 69%, plastic corks at 20%, and screw caps at 11%.
That struck me as not at all my experience: I would have guesstimated that screw caps outnumbered synthetic corks by two-to-one instead of the other way around. Finding data on closures is surprisingly difficult, especially data over time or by different world regions. In part, the difficulties lie in whether to limit the the wine market by bottle price or by size (e.g. are jug wines included).
A representative from the Cork Quality Council indicated that synthetic corks have an even larger market presence than Nomacorc's estimates but underscored that a handful of purchasing directors control the lion's share of synthetic closures.
Wine Business Monthly runs an annual report about closures. The 2009 report included responses from 229 wineries. Their data show a shift over five years toward "technical" corks (agglomerated granules of natural cork with natural cork disks glued to the ends) and away from synthetic corks (Nomacorc is extruded, making it a bit softer, whereas other plastic corks are injection molded, forming a more solid form; the red one in the photo above is injection molded. Read more about the differences here.). The report shows screw caps gaining market share.
While it is difficult to determine the precise relative market shares of each closure, we can express our opinions about closure type. The major downside of corks is the problem of cork taint (TCA), which can produce pungent aromas of moldy newspapers. Screw caps eliminate TCA but may create a virtually anaerobic environment that the wines become plagued by "reduction"–John Gilman expressed his dislike of screw caps here.
But plastic closures draw the most ire. Jancis Robinson has begged producers to stop using them, calling them "utterly infuriating." David Schildknecht of the Wine Advocate has lamented in a review the loss of aromas over time in wines using this closure. Tom Matthews of Wine Spectator recently tweeted "2005 white Rhone + synthetic cork = 3 maderized bottles and several sad and angry wine lovers."
What do you say–which closure type do you like the least? And feel free to add a comment with your thoughts on market share based on your experiences.

Loading ...
"Seeking Closure: Plastic Stoppers Crack 400-Year-Old Natural Cork" [WSJ]