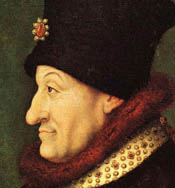 In 1395, Philip the Bold, Duke of Burgundy, was so afraid of gamay that he banned it. That's right: a man named "the bold" feared a grape. You need to use his fear to your advantage.
Philip was afraid that gamay would encroach on the turf of pinot noir, the native red grape of his home area. And indeed it might: high in acidity with red fruit notes and very food friendly, you could easily see why the Duke of Burgundy might be running scared.

So over the weekend, we had some friends over to the Dr. Vino World Headquarters and tried a dozen Beaujolais. There are ten small appellations, or growing areas in the region, and we didn't quite cover all of them. But it was a representative enough sample to get a lay of the land, something that definitely merits your attention, as blogger Neil is doing tasting through two wines from each appellation.
Since we live in a capitalist economy, I let the invisible hand take control of structuring the tasting, letting the friends bring whatever they found instead of trying to dictate which wines to bring. The distribution was surprisingly even with good representation of the appellations. I should note, however, that it wasn't always easy finding them. For example, one friend reported that he asked for some cru Beaujolais at a respected store and the first clerk didn't know what he meant (fortunately another did). And I went to an off-the-beaten-path store where the owner told me that he didn't stock much French wine in part because the dollar made it more expensive (the other part was for patriotic reasons–does that sentiment still exist?!?). While that may be true from a currency exchange standpoint, it's hardly the case for cru Beaujolais, which is almost entirely between $12 and $25.
I wanted to include some of the Louis Jadot Beaujolais since I was quite surprised that Jacqueline Friedrich described them as "to die for." Whoa! After lavishing praise on several specific cuvees and the wine maker Jacques Lardiere in her book, The Wines of France, Friedrich writes, "My absolute soft spot here, though, is for the wines from Moulin-a-Vent particularly the elegant, lip-smacking beauties from Chateau des Jacques, including its cuvées such as La Roche, and Clos de Rochegres, that you could easily take for, say, very, very good Volnays." I had to include some of those in the lineup but had trouble locating the 2005s commercially, so contacted the importer (Kobrand) who sent them to me as sample bottles.
Some final general observations to get your Bojo working in the height of summer:
* chilling leads to thrilling. Some of the wines were slightly chilled and they were more pleasurable. Five minutes in an ice bucket should do the trick.
* decanting actually helped one of the wines; another really opened up after some air. Maybe chilling and decanting is the ultimate Bojo experience?
* Jancis Robinson has called Beaujolais "the archetypal lubrication wine" and "gulpable" if served chilled so it's really a wine for drinking, not for pondering, even if these crus are probably the most ponderable.
* these were all 2005s (except for two) and it is a very solid vintage.
* and remember, this is NOT Beaujolais nouveau, which is a whole different thing.
Here are the wines from the tasting, in my order of preference.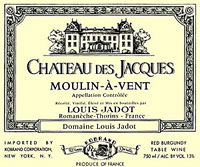 Louis Jadot, Chateau des Jacques, Moulin a Vent, 2005. $25 (find this wine)
A tremendous wine and the clear winner of the tasting. "The best pinot noir of the tasting," quipped one taster, emphasizing its similarities to Burgundy. It is so good that it transcends Beaujolais and really tastes like something from the Cote de Nuits that sells for two or three times the price. Solid tannins from the barrel fermentation but a great balance between fruit, acid and tannin.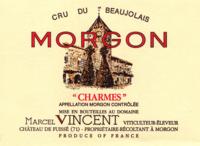 M.J. Vincent, "Charme," Morgon, 2005. $21 (find this wine)
This wine comes back to Beaujolais in quintessential form. Served chilled, this great gamay character is one I returned to for pleasure after tasting through all the wines. A longer finish than many, it does pack more of the punch known that Morgon is known for. Red berry fruit with faint licorice pair with soft tannins.
Chateau des Jacques, La Roche, Moulin-a-Vent, 2004. $29 (find this wine)
Back to the splashy, Bojo style for Chateau des Jacques. Fun notes of tart cherry, raspberry but good power to boot. Very good–lip-smacking, indeed!
Chateau des Jacques, Clos de Rochegres, Moulin-a-Vent, 2004 $29 (find this wine)
Closed and tannic at first, this wine climbed to this high place on my tasting sheet after I went back and tasted it two hours later. The wine had shaken off the closed tannins right after uncorking and became more fun, more Beaujolais like. But it remained an intense wine–Beaujolais for brooding.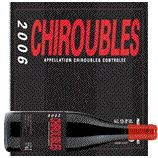 Pacalet, Chiroubles, 2006. (find this wine)
I am sneaking this wine in since it wasn't at our tasting but we had this Christophe Pacalet 2006 Chiroubles for 14,45€ at lunch at Lavinia in Paris in June. The lunch itself was overpriced and somewhat ho-hum but the wine was not thanks to their policy, written artistically in many languages on the wall, that all the wines on the restaurant side are the same price as the retail price–no corkage! The wine was a great lunch wine with good balance between the notes of fresh red fruit, acidity, and even some gentle tannin. It paired well with my white fish (search for this wine). This is about where I would have put it if it had been in this tasting. Let's hope this is a good preliminary indication of the 06 Bojos.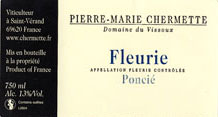 Pierre-Marie Chermette, Domaine de Vissoux, Poncie, Fleurie, 2005. $20 (find this wine)
This wine was fascinating. When I uncorked it, it was a very nice, juicy, Fleurie with clear notes of wild strawberries. I decanted it and two hours later the wild strawberry was gone, replaced by a pleasant tart cherry. Two hours after that, the wine was "over" as it has lost its vigor. What was that about needing to gulp Beaujolais? Don't wait too long to drain the bottle!
Dom du Clos du Fief (Michel Tete), Julienas, 2005. $18 (find this wine)
More tart cherry, improved with the goat cheese, a great pairing.
Chateau de la Chaize, Brouilly, 2005. $12 (find this wine)
Chilled, it is gulpable. One friend suggested that it "takes him back to a bistro in France." The wine was very popular, a bright, delicious, and an easy drinking favorite.
Domaine Piron & Lafont, "Quartz," Chenas, 2005 $16 (find this wine)
Very solid with a good balance of fruit, acid and gentle tannin.
Chateau des Lumieres, Morgon, 2005. $18 (find this wine)
Remained quite closed with firm tannins.
Jean-Paul Brun, "L'Ancien," Terre Dorees, Beaujolais, 2005. $15 (find this wine)
Definitely better chilled but somehow not as expressive as some of the others. I was surprised at the unveiling that this one was this low down on my sheet. It's still fun, just surprisingly disappointing given the status of Jean-Paul Brun.
Les Bataillons, Fleurie, 2005 (find this wine)
Simple, with an odd offputting note that I couldn't quite place. Artichoke? Asparagus?

Daniel Bouland, "vieilles vignes," Morgon, 2005, $18 (find this wine)
Big tannins, not much joy here.
A final note, one guest brought a magnum of Clos Roilette 2005 (find this wine–a very nice gesture that we saved for a future occasion. So that's yet another good thing to do with Beaujolais–give a magnum as an impressive gift!