A few quick things about cru Beaujolais, the smaller, distinctive growing areas of Beaujolais.
1. The Burgundy producers are coming!
Prices are relatively low for grapes and real estate. That fact has attracted investment to the region from producers looking to expand: Earlier this year the Champagne (and Burgundy) house Henriot purchased the Chateau de Poncie, a key property in Fleurie. When I asked Joseph Henriot earlier this year about the motivation for the purchase, he pointed to the distinctive terroir (he loves Moulin-a-Vent and Morgon as well as Fleurie) but also the tremendous discount the property had compared to land in Burgundy.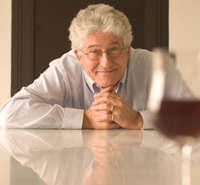 2. Cru Beaujolais can age, maybe even longer than you think
Louis Jadot was one of the earliest notable Burgundy producers to acquire property in the Beaujolais region, notably in Moulin-A-Vent. I tried their Chateau des Jacques 1996 a few months ago and was wildly impressed. Jacques Lardiere, the winemaker (pictured right), told me that the best wines can last decades!

3. I've got a cru Beaujolais vertical going–in magnum
Magnums, twice the size of regular bottles, are generally baubles for captains of industry. But you can get a top cru Beaujolais in magnum for less than a lot of second label Bordeaux. Combine this price appeal with the age-worthiness and you can understand why I have several magnums of Deccombes, Desvignes, and a mini-vertical (three vintages!) of Clos de la Roilette cuvee tardive. Cru Beaujolais magnums also make great gifts; to wit, I just got a magnum of Lapierre Morgon 07 at Appellation Wine and Spirits yesterday.
4. Gamay is wildly food friendly!
And at 12.5 percent alcohol, you can have a couple of glasses too and still be able to function after dinner.
5. It's mostly less expensive than red Burgundy!
6. How would you change the region?
In 1395, Duke Philip the Bold outlawed the humble gamay grape from Burgundy, protecting the premium pinot noir by fiat. What would you do differently if you were the Duke of Beaujolais? I asked Jacques Lardiere what he would do differently if he made his wine in Moulin-a-Vent outside of the appellation system, which mandates certain controls, such as planting the grape gamay. He said, "I would plant pinot noir."
Don't forget to join us tonight at 8 PM on Twitter Taste Live raising a glass of local wine or a cru Beaujolais! use #ttl in your comments or follow me.