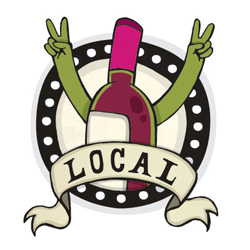 Events have conspired, the plot has thickened and now I call on you to say "non" to only one-third of Beaujolais Nouveau this year!
As you may recall, last week I asked you to ditch Beajolais Nouveau this year because of the high carbon footprint of the wine. The rush to bring this proto-wine to the world's shops on the same day, November 20 this year, means that airfreight is commonly used, increasing the greenhouse gas emissions of the wine by at least fourfold for New York and many times more to places like San Francisco, Santiago, and Tokyo.
Word floated in to the Dr. Vino tower that major changes were afoot this year in Beaujolais with this year's Nouveau. So I picked up the phone and called France (at the low rate of 2.3 cents per minute). First up, I spoke with Inter Beaujolais, a regional trade authority, where I learned that Beaujolais Nouveau last year had a volume of about 48 million bottles, about a third of the region's production. Further, the Nouveau for EU destinations is not permitted to leave the region until November 13 this year, giving it a week to get places like Amsterdam and Athens. But non-EU destinations were given a special extra week this year and could leave the EU on November 6. Could it really get to store shelves in New York City by November 20?
To find out I called Georges Duboeuf, the largest shipper of Beaujolais Nouveau with around three-quarters of the Beaujolais Nouveau market. Yann Bourigault, who runs exports for North America, told me that, indeed, things are different this year. In July, Duboeuf had to set a price for the wine with the American importer, W. J. Deutsch. At that time the dollar was at $1.52 to the euro (it's now 1.25) and with the softening economy, they made the call that they American consumer would not support the extra two dollars per bottle for the 2008 Beuajolais Nouveau that air freight would add.

So they lobbied the French authorities including the Minister of Agriculture and even Christine Lagarde, the Minister of Finance to be able to move the shipping date up to provide greater time for transportation via the cheaper (and greener) sea freight. Bourigault said that the wine had already been bottled and trucks were picking it up now to take it to the port where it would clear Customs and be loaded onto a ship for Boston, leaving November 6 as the new regulations allow. Barring storms or a French port strike, wine should arrive in Boston on November 13 where it will clear American Customs and then have trucks take the cases on the final leg of the journey to stores and restaurants. They can't get it everywhere by sea and Bourigault estimated that about one-third of this year's BN will still be airfreighted around the world, down from two-thirds last year. Still, that accounts for over a million cases of proto-wine that is flying around the world.
So there you have it! Some blend of the recently enfeebled dollar and the crippling strength of the clarion call to ditch Beaujolais Nouveau from this web site have now reduced the King Kong sized carbon footprint of the wine down to mere Sasquatch. Some producers have been more intentional in their efforts, such as Boisset who will roll out ultralight plastic wine bottles this year for the first time. Consider yourself on notice, Nouveau, for next year. In case of the dollar rally holds, we'll see if they continue with the lower carbon footprint shipping option.
With the ends closer to being justified, I'm putting water in my own wine boycott, diluting it to one-third strength! On November 20, I still urge you to try a local wine, which has the smallest carbon footprint (see the site Appellation America for learning about wines made near you). Or, if you've been there, drunk that near you, try a cru Beaujolais; it's a better direction for the region to head and, thanks to the shipping, a fraction of the carbon footprint of the Nouveau–and a thousand times better tasting.
Image credit: "Local" was commissioned from the talented Alex Eben Meyer.