Last year, I was loving the serious 2005 Beaujolais from many of the ten "crus," or sub-zones of the downtrodden region. I've tasted a few 2006s (and look forward to more) and wanted to highlight this excellent duo.

Marcel Lapierre, Morgon, 2006. $21 (find this wine) Importer: Kermit Lynch.
This beautiful wine comes from Marcel Lapierre, one of the qualitative leaders of the region known for a long period of barrel aging. This extended élévage, as it is known, provides the wine with complexity and the ability to better combat oxidation since Lapierre bottles without sulfur, an antioxidant commonly used for stabilizing the wines during shipping. This vintage is particularly succulent and Mrs. Vino had the good sense to demand that I buy more of the wine after her first sip. I happily obliged. The wine will make a good gift not only because of what's inside but also because of the handsome presentation–along with the wax cap. I'm a sucker for wax caps.
IN the glass, the wine is light in color and actually tastes like a really superb gamay as opposed to many of the best Beaujolais that end up tasting like pinot noir (hey, I'm not complaining, just observing). But gamay has such alluring fruit, lively acidity and smooth tannins when done right that it is hard to refuse. The traditional food pairing is dried sausage but it's really hard to go wrong since it is so food-friendly.
Of note, Marcel Lapierre is one of the qualitative leaders in the Beaujolais. Check out this excellent article from the Saveur archive on Lapierre and his damascene conversion at the hands of Jules Chauvet.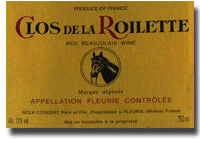 Clos de la Roilette, Fleurie, 2006. $20 (find this wine) Importer: Louis/Dressner
This wine is darker and more concentrated, a twist on the traditional reputations of the "masculine" Morgon and the "feminine" Fleurie appellations. The concentration does not sacrifice the overall tastiness and, although rich, the wine still has good acidity. I brought it to some friends' house and they were rapturous in their praise. And to think I got it for only $16! I'll definitely buy this one again–and look for the Cuvée Tardive, which is more age worthy. Yes, age-worthy Beaujolais! More on that in a future post.