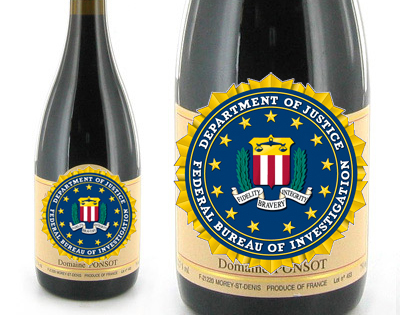 The FBI arrested the man known as Rudy Kurniawan at his home in Arcadia, California yesterday on charges of selling counterfeit wine. Inside the home, the authorities found materials used for making counterfeit wine bottles. They charged him with selling $1.3 million of fake wine but in 2006 alone, Kurniawan sold $33 million of wine at auction. They also charged him with "fraudulently obtaining millions of dollars in loans to finance what prosecutors called his 'high-end lifestyle." Check out all the details to this fascinating story in this piece at nytimes.com.
One thing that baffles me is how a fraudster could sell wines that, in fact, were never made. One example: the feds have charged Kurniawan with selling a bottle of 1929 Ponsot but Ponsot only started estate bottling in 1934. If one were to make and sell fake wine, don't you think you'd take the time to make sure that the wines you were counterfeiting actually existed? And what of the auctioneers, did they not this or did they turn a blind eye to it? It will be interesting to learn more details as they emerge.
For those who think the FBI just roots around for terrorists, there's apparently an elite unit that targets fraud in art and collectibles. I don't know about you, but I can't wait for the movie version of this story. Against a background of wealth porn, a brash young collector emerges on the scene; a go-go auction atmosphere; duplicity and gullibility; an angry billionaire seeking vengeance; and members of the elite FBI unit. We've discussed casting options for the first part of this saga before but hopefully someone in Hollywood will give this project a green light. I'm ready to head over to Starbucks right now with my Mac to play the part of screen writer right now!
The case is U.S. v. Kurniawan, 12-MAG-606, U.S. District Court, Southern District of New York.