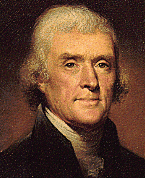 The fantastic tale involving a tremendous cast of characters and some possibly fraudulent bottles from the collection of Thomas Jefferson has not one but two–TWO!–interested parties in making this a movie. (story on Decanter, the wine site with the most obnoxious advertising ever.)
Excellent news! THIS is the wine movie we have been waiting for! Forget Paris 1976. Forget Russell Crowe. This has it all–intrigue, fine wine, possible duplicity, remorse, vengeance, and bling! The only thing missing is the love angle but I'm sure Hollywood's finest screenwriters will be able to work that in when they get off the picket line.
So let's do our own casting call. I outlined some of the characters in an earlier summary of the story. Will Smith is reportedly involved.
Potentially fraudulent seller, with a hidden past: Paul Giamatti. Back for another wine role! No, wait, Johnny Depp!
Potentially complicit, eager auctioneer: Ian McKellan. Or take it down a few decades with Hugh Grant.
Flashback to Thomas Jefferson: Nick Nolte! Back again, and with wine…
Hired detective: Chris Cooper
Billionaire sheriff: Clint Eastwood. No doubt. But this is probably the part that Will Smith wants. That could be fun too.
Love interest: Catherine Zeta-Jones. Could merge my previous suggestion about the wine heist quite easily here.
And major congrats to renaissance man Ben Wallace (er, wait, this Ben Wallace) on selling the movie rights before the book has even been published! And to Patrick Radden Keefe for selling movie rights to a magazine article! I'm happy to sell movie rights to a blog posting.