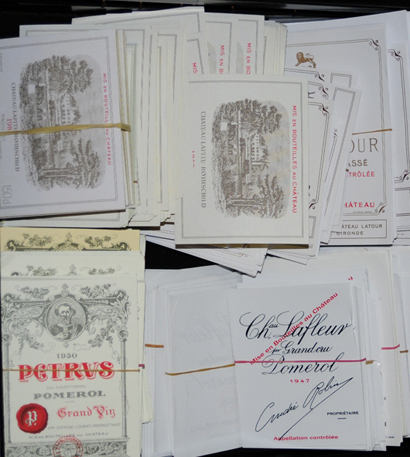 The story of Rudy Kurniawan's arrest on charges of selling counterfeit wine has been all over the news since the FBI arrested him on Thursday. Here's some of the recent action:
* WineDiarist and Wine Spectator have published photos from federal prosecutors taken from the scene of the alleged crime; one of those, with stacks of Petrus 1950 and Lafleur 1947 labels among others, is reproduced above.
* The complaint states that Kurniawan had been living illegally in the US since 2003. He tallied $16 million in American Express bills between 2006 – 2011. He ran up $11 million of debt in 2007 alone. At the time of the arrest, he had a Lamborghini, a Mercedes-Benz and a Range Rover in the garage.
* Eric Asimov writes in the NYT about the arrest and recalls the go-go days, when Rudy Kurniawan apparently used his tasting ability to make him an arbiter on what on the table was fake and what was not. Asimov also tweeted a link to this 2008 Men's Vogue piece by Jay McInerney on "billionaire winos."
* Dirty South Wine wonders which California wines were found at the scene that were intended to be passed off as Bordeaux?
* Be sure to check out that fascinating comments on WineDiarist, where Bill Klapp calls the whole thing a "victimless crime," Laurent Ponsot says he has been working with the FBI for years, and Paul Wasserman describes his former association with Rudy K. at the Wine Hotel, an LA wine retail and storage facility.
UPDATE: Robert Parker posted this on this site over the weekend: "It will be interesting to discover if RK was just an independent operator or part of an entire network….I can't remember the exact date when two FBI agents spent much of a day with me discussing fraud in fine wine after I had written an article about it in my Bordeaux book, but I think it was the early or mid-90s…while they revealed little of what they knew, it was apparent this was an active case,and centered around the fabrication of fraudulent bottles…I wonder if the RK case is part of that same investigation of nearly 17-18 years ago….any ex-FBI people out there that know how long they will keep a case open?"