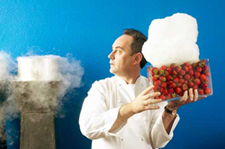 Just when the wine auction market's froth appeared to be blowing off, the fine wine world is bracing for some foam.
El Bulli, the famed restaurant where the entire season used to book up in minutes and futuristic dishes paraded before diners all night long, closed last year (but will reopen as the ElBullifoundation). Now, wine-searcher.com reports that the owners will be selling off the contents of the restaurant's wine cellar.
The collection has many mature wines and it remains to be seen what the estimated 10,000 bottles will fetch at an upcoming Sotheby's auction. But perhaps the big question for bidders as well as chef Ferran Adria and his partner Juli Soler is whether they will apply the same creativity in the sale as they did in the kitchen. Thirteen-year-old albarino may fetch one price, but what about doing the food-wine pairing for collectors and selling an essence of oyster and albarino microfoam served on the half shell? Or an orb of Corton-Charlemagne lobster? Or reformed into already-fermented grapes with "with their mad sphere-making gadgets and such"? With such an imprimatur, the wines would be harder to counterfeit.