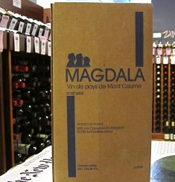 As a fan of the box wine format, though not always the wine inside, I was pleased to see Eric Asimov and the NYT wine panel recommend some box wines. Their clear favorites were the Wineberry Cotes de Rhone red and the Estézargues , boxes that I have also recommended.
One they may not have included in the article was the Magdala rosé. We've worked our way through a box of the 2010–liquid air conditioning–so far this summer at the Dr. Vino World Headquarters. It's from importer Jenny & Francois and is a darker rosé in the glass that hails from organic grenache and cinsault vineyards in Provence. Solid rosé, especially for the equivalent of $7.50 a bottle. (Find this wine at retail.)
I was talking about this wine with a friend recently and he told me that he loves the Magadala rosé for its stealthy refreshment. Every year, he pops the bag of wine out of the cardboard box and puts it at the bottom of a large canvas tote bag, covering it in ice packs, towels and sunscreen. Then he proceeds to a tennis tournament that may or may not rhyme with US Ropen and drinks the rosé all day instead of whatever overpriced swill is at the concession stand.