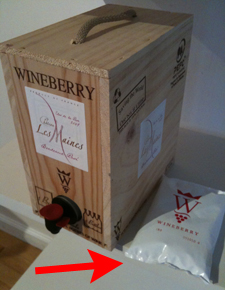 Wine in a box? Try wine in a crate.
After my GMA segment last week, I thought I would elaborate a little more on one of the box wines that I tasted for the first time this fall: Wineberry box. The lineup includes about six wines, red, white and rosé, all from France. They are priced at about $40 for a three-liter box. (Search for the wines at retail.)
Eric Dubourg, president of Wineberry America, a wine importer and distributor based in New York, says that he wanted to change box wine, "to get away from bag-in-box as student or grandmother wine."
Box wines still have a stigma and this stylish wooden crate can go a long way to dispelling the downmarket image on looks alone. (It's worth noting, however, that the wooden box is heavier than a cardboard one, thus somewhat reducing the carbon efficiencies. But Dubourg says he can still fit twice as much wine in a shipping container as we can if it were bottled, which reduces the greenhouse gas emissions, as well as his shipping costs.) Another cool feature is that the box has a retractable bottom panel: Slide it back and you can pop in the gel ice pack (pictured, right) that comes with the whites and rosés to keep them cool. Are you gellin'? For Wineberry box, the answer is yes.
But style alone couldn't carry the wine. Dubourg selected existing wineries from his bottled wine portfolio and asked them to put some of their production in the box. He has the packaging made in Bordeaux and then dispatches a mobile bottling–er, boxing?–truck to the properties where the wines are boxed just the same way as if they were putting it in the bottle.
My favorite wine of the lineup was Domaine Le Garrigon, a 2008 Cotes du Rhone. The exact same wine still comes in a bottle format, which costs $15 while the box comes in at $10 per 750ml–perfect for all your bottle vs. box blind tastings. I tasted them both at the Wineberry fall portfolio tasting and couldn't distinguish a difference: both were dark in the glass, with brambly southern Rhone aromatics, and even had a arcing finish. Imagine that–a box wine with an arc!
Other notable wines in the lineup are Chateau les Maines, a 2009 rosé from Bordeaux that I wish I had discovered at the beginning of the summer, and the 2007 Chateau Moulin de la Roquille, with right-bank Bordeaux that has a nice note of cabernet franc.
One place where Dubourg met his match with the packaging was with sparkling wine, since it requires thicker packaging to withstand the pressure from carbonation. He did experiment with technology akin to the Heineken keg but couldn't make it work. But that would certainly be something to toast: a five-liter mini keg of Champagne.
The Wineberry box wines can be found at select stores in NYC such as Juice Box Wine Co and UVA Wines in Brooklyn and Alphabet City Wine Co, Astor Wines, and Le Du's Wines in the Village. They also have distribution in Florida, Illinois, Massachusetts and Tennessee, where the box wines actually debuted.