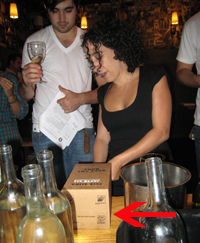 Faster than you could say "Holy carbon footprint, Batman!" two new box wines have arrived on our shores!
Naturalista wine importers Jenny and Francois win the prize for the first new box wine since my op-ed in the NYTimes last month! Actually, the red was around last vintage but the white is all new! Double your pleasure while reducing your carbon footprint.
Both the wines are from the Cotes du Rhone cooperative Estezargues, which Jenny & Francois claim is the only co-op in France to make "natural" wines (no commercial yeasts, no enzymes, no filtering, minimal sulfur before bottling).
The white, called "From the Tank" and packaged in unbleached cardboard, is actually a great value transitional white for fall (find this wine). This 2007 is aromatically complex, its big and rich, with typical low acidity, and dry. I was envisioning pairing it with a squash risotto. Although it is not a low-priced box wine at $40, it is, they write in their catalog, "exactly the same wine as what we bring in bottles," which sell for about $14.50 each. Booyah! For all the Wine Century Club members out there, its 70% Grenache Blanc, 20% Clairette + Bourboulenc, and 10% Viognier.
The red, a big blend of grenache, syrah and carignan, has that ripe, juicy quality from many of the wines of the region. The wine lacked the precision and structure of some their other Rhone reds but it is a solid offering to keep around for squeezing off a mid-week glass. It's the same price as the white "From the Tank." (find this wine)
I didn't have time to taste through all their wines at their trade tasting last week, unfortunately. But I did like the Binner wines from Alsace, which I had not previously discovered (search for Binner). The pillowy pinot gris 2006 has no added sulfites; the 2006 gewurztraminer had a blast of white flowers and mango on the aroma and balanced tropical fruits on the palate.