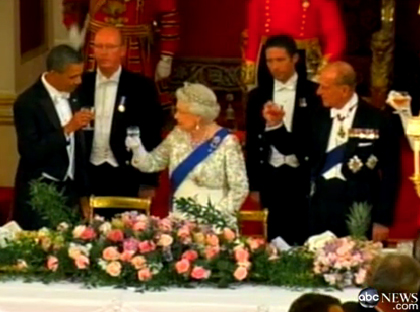 The BBC has a story out on the UK Government's wine cellar, valued at about $5 million. Needless to say, it puts the dinky White House collection to shame. (Check out the slideshow from the London vaults.)
One item that grabbed some attention in the vinosphere is that they served Obama a wine their tasters had described as "soapy" at his last state dinner at Buckingham Palace. In 2008, they wrote, "Slightly soapy odd palate – hope it comes round. Review in 2011." Upon review in February 2011, they wrote, "Not soapy, but harsh acidity." Then the wine was served at the May 2011 state dinner. The article does not note the feedback, if any, from the Palace.
So what was the nasty wine? Well, digging through our "Leaders and Liters" series, we can inform the vintelligentsia that it was the 2004 Domaine William Fevre, "Les Clos," a grand cru site in Chablis. (Find this wine at retail.) You can check out a few critical reviews here, where the scores ranged from 92-96 points, and none of them used the word "soapy" or comments on the acidity in a negative way. In fact, they bandy around terms such as "star of this extraordinary line-up" at William Fevre, "show-stopping," "suave," "seamless," with an "incredibly intense finish that reminded me more than a little of a great Corton-Charlemagne." (Whew, that read like a Zagat tasting note.) Clearly premature oxidation is an issue with white burgs, but harsh acidity is not commonly a premox note.
So, what say you: should the White House be offended that they were served a wine their internal tasters panned? Or is the BBC trying to gin up some controversy since the wine has a pedigree and was well-reviewed? See the rest of the wines served at the state dinner. Pity we don't have the tasting notes for the rest of the wines–would love to have seen how their tasters reviewed the 1990 Domaine de la Romanée Conti, Echezeaux or the '63 port–such dogs!