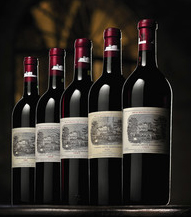 Last week, Sotheby's held an auction of wines from Chateau Lafite-Rothschild in Hong Kong that broke many records.
As has been covered elsewhere, one Asian telephone bidder snapped up three bottles of 1869 Lafite for $232,000 each–a new per bottle record. Other rarities appeared in the sale of 2,000 bottles spanning 139 years.
But one aspect of the sale that struck me was the premium paid over retail prices. Decanter.com has a helpful rundown on the spreads, many of which are justifiable given the provenance of the wines (they were coming directly from Lafite's cellars in the Medoc.) Most notable for me were the 2009s and 2008s which are still only available on a futures basis–the wine has not even been put in the bottle, much less left the property yet. In other words, whether you buy it in New York, LA, Hong Kong or London, the wine has yet to be shipped so you'd think the prices would harmonize (with the exception of duties). Yet Decanter reports the prices paid for 2008 futures were 102% over retail and the 2009s were almost 300% over retail. Similarly, Hong Kong hammer prices frequently fetch higher prices than the same wines in New York of London.
I called Jamie Ritchie, Head of Wine at Sotheby's New York office, to ask why. He described the scene last week in Hong Kong as "the best you can get" as an auctioneer: the room was full to capacity, with a lot of excitement, and a lot of bidding in the room and on the telephone. As to the premium for the 2008s, he said they announced the new Chinese character on the bottle and there was "a lot of appreciation for that gesture." And why pay $70,000 a case for the 2009s (that sell for $17,000 a case in New York)? "Sheer unbridled enthusiasm," he said.
How much does it cost to physically ship a case of wine to Hong Kong from either New York or Bordeaux to Hong Kong? Depending on volume, Ritchie said about $15 to $40 a case. There are no duties.
Sotheby's next auction in Hong Kong will be January 22 and 23.