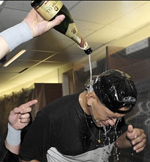 Baseball season is winding down and we all know what that means–time for plastic tarps to adorn locker rooms, wine goggles to come out, and grown men to spray themselves with Champagne. Or, getting technical, is it instead sparkling wine?
Thanks to the Dr. Vino spy cam, we have locker room footage! (No, not of Brett Favre).
After clinching their wild card birth, the Yankees sprayed themselves with Hankell Sekt, a sparkling wine from Germany. (The Dr. Vino cam was too shrouded in bubbles to tell what went down after the Twins series, but we do get one look here.)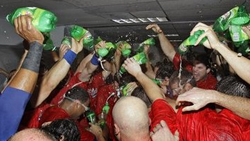 The Rangers, so as to include their star player Josh Hamilton who has fought alcohol and drug addiction, sprayed themselves with ginger ale after beating the Tampa Bay Rays.
The Rays had used Chateau Ste. Michelle's sparkling wine from Washington state to douse their AL East victory. The Phillies sprayed Korbel from California for their NLDS win.
While the bubbles are flowing, the wine fans are still waiting for a team to pop the cork on actual champagne from Champagne (assuming they aren't into ginger ale). Perhaps they will wait for the World Series for that.