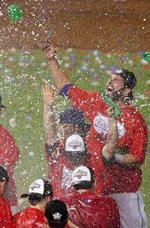 Bud Selig watched the San Francisco Giants spray themselves with bubbly and tut-tutted. The owner of the Milwaukee Brewers and MLB Commissioner told the LA Times, "This is something I am not happy about: spraying champagne all over. I'm not a fan of that."
I agree; the ritual is a little absurd at this point. Allow me to quote myself. Here's what I wrote in the wake of new rules on locker room celebrations that went into effect in 2010:
While I am generally all for defending wine consumption in the public eye, I find it difficult to get too worked up about this latest MLB ruling. Clubs decided to forego champagne in favor of cheaper sparkling wine long ago. And while wine producers might want to bask in the aura of victory, what vintner would want to have their wine consumed out of an athletic cup while wearing ski goggles? I mean really, that would make even more people shudder than just Max Riedel!

The victors certainly deserve a celebration. But they have all off-season to savor the Champagne, with food and friends, without having to wear goggles.
What do you think–are you in favor of players chugging bubbly in the locker room? Try not to let sour grapes influence your point of view…
"The "Champagne" ritual in baseball gets icy reception"
"Yankees and Rangers spray Champagne–or is it?"