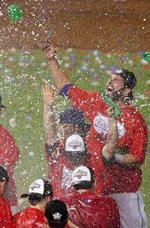 Major League Baseball seeks to make the absurd ritual of victors spraying each other with drinks a non-alcoholic one. Korbel weeps. Catawba producers may break out the bubbly.
The NYT reported on the new guidelines over the weekend: "Teams must limit Champagne; offer a non-alcoholic version; beer and other types of alcoholic drinks are banned; and teams are not allowed to bring the drinks on the field."
Sadly, the Times echoes most other sports reporting, calling the bubbly uncorked and sprayed all over the players "Champagne" when, as you know, the Dr. Vino spy cam has yet to see an actual bottle of champagne in a plastic-draped locker room this post season.
While I am generally all for defending wine consumption in the public eye, I find it difficult to get too worked up about this latest MLB ruling. Clubs decided to forego champagne in favor of cheaper sparkling wine long ago. And while wine producers might want to bask in the aura of victory, what vintner would want to have their wine consumed out of an athletic cup while wearing ski goggles? I mean really, that would make even more people shudder than just Max Riedel!
The victors certainly deserve a celebration. But they have all off-season to savor the Champagne, with food and friends, without having to wear goggles.