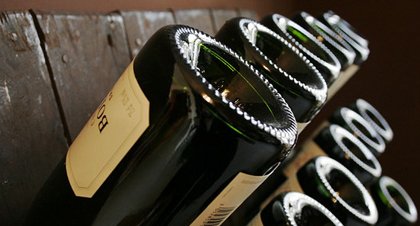 Champagne, it's not just for toasts, celebrations, boat launches, New Year's Eve and locker rooms any more. (In fact, as our spy cam shows, it's not even used in locker rooms these days.) Champagne elevates many foods; food, it turns out, also elevates many Champagnes. (I, for one, am very convinced of the food-friendliness of Champagne and found myself craving a glass of blanc de blancs the other day while lunching on some sushi.) But this is hardly breaking news for readers of this site–almost none of our "impossible" food-wine pairings without someone saying, "easy, Champagne!" If roasted chicken is the sort of food that a lot of wines would pair with, Champagne is the wine that a lot of foods pair with.
Nonetheless, it's a good point to make and Mike Steinberger eloquently urges readers to cast off stereotypical assumptions while making some excellent Champagne selections.
Interestingly, in the piece, a sommelier makes the point that pairing red wine with a main course is going to be a hard tradition to break for many people. What do you think: If you were offered a Champagne or Your Favorite Red at the same price with a meal, would you categorically rule out the Champagne?
A final word: if you have kids, consider ringing in the new year tomorrow on an earlier time zone, such as Paris, as we do. Then you can enjoy the wine with food–while you're still awake.