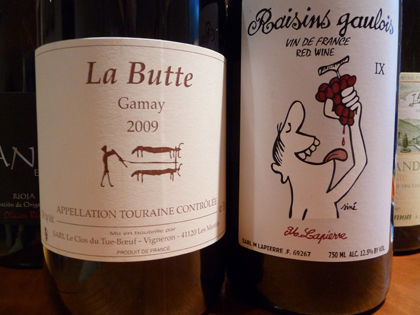 Marcel Lapierre, the vigneron of Beaujolais, is a grandpappy of minimal intervention, "natural" wine. And Thierry Puzelat in the Loire is a leading, young naturalista. In fact, Puzelat has credited the beauty of Lapierre's wines as the inspiration for choosing the path to making such wines.
Each of them made a reasonably priced gamay in the acclaimed 2009 vintage; I bought each for about $12 at Astor Wines and then tasted them head to head. Turning to the master first, (whose son Mathieu does a lot in the cellar these days), the Raisins Gaulois from the Lapierres is labeled as a mere "Vin de France," rather than a Beaujolais (since they already make a Beaujolais). But the fruit is all from their vineyards in Morgon, just from vines less than 15 years old. The light red wine has that fun, fruitiness of gamay made with carbonic maceration while having enough structure to be more than simply thirst quenching. If you have the habit of buying Beaujolais nouveau, try this more rewarding, yet easy drinking, uncomplicated wine instead. Mathieu Lapierre writes via email that they bottled it with screw cap to emphasize that it's a wine meant to be consumed in the relative short term.
Now the the student: Thierry Puzelat's rendition of gamay, La Butte, is made under the Clos du Tue-Boeuf label. New this vintage, it includes estate fruit as well as some purchased fruit from Touraine, according to the wine's American importer. Bottled under synthetic (extruded) cork, the nose is more funky than fruity and the wine is slightly darker in the glass. The wine has the characteristic gamay snap but has a more substantial finish than the Raisins Guallois. And for achieving this small but arcing finish, I give this natural gamay the edge in the $12 showdown. Try both, if you can, and share your thoughts.