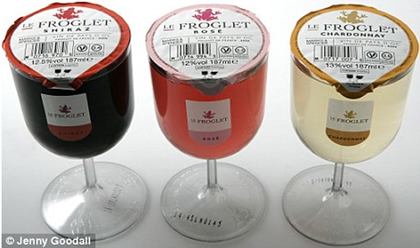 Forget screwcaps versus corks: An English entrepreneur has sold this invention of single-serve plastic wine glasses–stem and all!–to Marks & Spencer, which now "struggles to keep up with demand." He is laughing all the way to the bank since a business reality show in the UK called "Dragons' Den" panned the idea when he presented it on the show. Sold under the brand "Le Froglet," the individual 187ml glasses cost £2.25 ($3.33) for a Shiraz, Rose and Chardonnay, which, apparently, come from the Languedoc.
What say you: abomination or genius? Would this solve all your needs for wine in the back of a taxi? On a train home from work? At picnics? Your wine-through-a-straw needs?
"Wine-in-a-glass entrepreneur ridiculed in Dragons' Den toasts M&S success" [Daily Mail; also image] Thanks, Jessica!