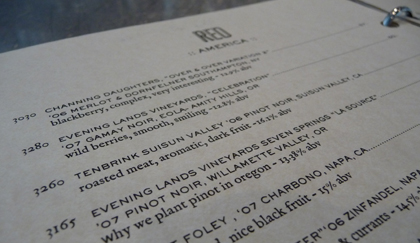 In a piece entitled, "Eat Local; Drink European," Eric Asimov of the NYT tackles the apparent paradox at the core of some San Francisco restaurants: while the menus extol fresh local produce, the wine lists are often dominated by wines from Europe.
Why? One wine director, Chris Deegan of the restaurant Nopa, says "I find myself drinking European wines most of the time and pairing European wines more successfully with the food." Mark Ellenbogen, wine director of a top Vietnamese restaurant, says, ""At Slanted Door, you need low-alcohol, high acid wines with residual sugar, and they don't come from the New World."
Asimov continues the topic of the unwieldy pairings many American wines make with food over on The Pour. He writes, "the riper and riper styles of wine that have become popular in this country simply are not versatile with food, so restaurants look elsewhere." He also notes some exceptions that he has found.
Wine style aside, I crunched some numbers for the piece based on my previous research on the carbon footprint of wine. Even though container shipping offers greater efficiency from a greenhouse gas perspective than trucking, a 9,500 mile sea journey still comes out higher than a 60 mile truck trip.
By way of an offset reminiscent of our bottle-for-bottle challenge, several restaurants in the Bay Area have discontinued serving water bottled in the Alps and now serve local, tap water, still or sparkling. And you can even try this at home.