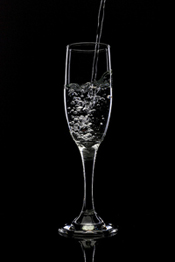 Perhaps this holiday season you will get the $5k winepod to make wine at home. For my birthday a few months ago, I got a gift that gave me the ability to make something a little less exciting: water.
Well, not exactly make water, which, of course is free from the tap. But I received a carbonating contraption known as SodaStream that adds some sparkle to your H2O. Fill a one-liter bottle with water, twist onto the nozzle, press button three times and voila! Sparkling water! Just like an old-fashioned seltzer water maker. After making probably close to a hundred liters of such water now, I find it to be very good (though it is best to carbonate immediately before consuming) and convenient (no running out of sparkling water).
And, of course, it's low carbon footprint! As an offset to my wine consumption, I gave up bottled water almost entirely last year and it was the sparkling water that I missed most. Now it's great to have it back on my table. In fact, since grape fermentation produces both alcohol and carbon dioxide, I'll be looking out for the first carbonation cartridge that comes from captured fermentation CO2!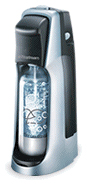 As to the pricing, it's about $100 for the Fountain Jet model that I got with two cartridges and a refillable bottle (but having extra bottles helps since you can just keep them full in the fridge; UPDATE–enter code SODAGIFT to get $25 off a new soda maker for the holidays). At 50-60 liters of carbonation per $15 cartridge, or $0.25 a bottle, it's neither as cheap as tap water nor as cheap as I would like, but it's less expensive than bottled water–and lower carbon footprint, clearly, without the trucks hauling glass bottles and water from Maine or the Alps.
Now if only I can get the courage up to try carbonating still wines, then I'll really be undercutting the market price for bubbly!