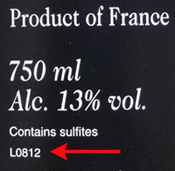 Should wine lot numbers appear on the labels of American wines as they do in Europe?
The recent saga of Sierra Carche exposed some cracks in the process of wine making, wine reviewing, and wine buying. For those who haven't checked out the saga (see Felix Salmon's excellent summary over on Reuters.com), an influential critic gave a wine brand called Sierra Carche the score of 96, retailers sold the wine touting that score, but many consumers then found the wine undrinkable (as the critic also did 10 months later).
Although the mystery of how this could happen remains unresolved, the winemaker has pointed out there were three "lots" (a batch bottled under nearly identical conditions) of the wine and admitted one of those lots a different wine entirely that was bottled as Sierra Carche.
Charlie Olken, publisher of the Connoisseur's Guide to California Wine, posted several comments on this subject on the previous thread about his experience with lot variation in domestic wines. An excerpt:
I cannot name the winery because of legal reasons, but I was asked to testify in a law suit in which a winery sued another company over wine lost in an accident. It turned out the winery had sold out of the wine in about eight months and simply went out on the open market and purchased wine in bulk and bottled it as their own under the same label. In discovery, it was found that the lost wine had 20% Chenin Blanc purchased at wholesale at a price way below what labeled grape would have cost.

Unless wineries are required to identify separate lots, whether they are bottling wine in California or Spain or Morocco, these kinds of events will continue to happen. Sometimes it will be only a slight difference in character as in the Ste. Michelle and Mondavi examples above, but the potential for mischief when anybody can bottle several lots under the same label is real and the Sierra Carche is not the only bad example.
Lot labeling has been mandatory in the EU since the early 1990s to facilitate traceability in the event of a recall or consumer complaint. Importer James Koch also posted to the comments: "I have been selecting wines by lot numbers since 1992 – a year after lot numbers started to appear on every bottle of wine – when I discovered that 'bottle variation' often is just the result by mixing up different lots. Due to the lot numbers I've been able to offer my clients the wines I tasted and selected on my wine buying trips – not only VERSIONS of it." Koch also pointed out that lot numbers may be difficult to see since it can appear anywhere on the outside packaging material. Lot numbers must start with the letter "L" in Europe.
But American wineries are not required to print lot numbers on bottles. They should. And they should have a standard of 100 percent accuracy. Maybe some progressive wineries will start to do this as Bonny Doon has with ingredient labeling.
Several factors can cause bottle variation to the consumer and disclosing lots would at least provide more transparency. Remember all those consumers who found variation in Two Buck Chuck? Lot numbers could help sort out some of that.
Do you think critics should also list lot numbers in their reviews?