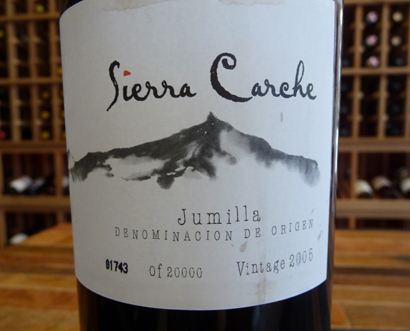 Remember the saga of Sierra Carche? Here's a reminder from our earlier coverage: "What happens when a reviewer tastes a good bottle, but some consumers buy what appears to be a completely different product? Think it couldn't happen? Guess again and behold the saga of Sierra Carche 2005."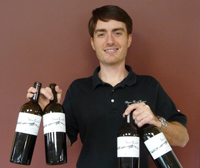 Well, last week I met that consumer, Robert Kenney (right), whose dogged pursuit of Jay Miller popped the cork on this saga. Kenney purchased 48 bottles of Sierra Carche and has opened 18 of them, "hoping for a good one" but instead has found Jay Miller's term "undrinkable" a more apt descriptor. I joined Kenney and a dozen other tasters for a blind tasting organized by Daniel Posner, a partner in the wine store, Grapes The Wine Co. in White Plains, NY.
Posner greeted the tasters in his apron as he pulled burgers off the grill outside the store. But his real work had happened well before the tasting even started, coordinating the lineup. He managed to find four bottles of Sierra Carche from two different lots of the wine (astute readers may recall mention of a third lot, #7033, but bottles from that small lot/bottling proved elusive). Posner selected similar wines, including wines rated 93 – 99 by Jay Miller at the Wine Advocate ranging in price from $6 to $150.
It was the worst tasting I have ever attended. Although the burgers and company were good, the wines were abysmal. I'll spare you the play-by-play (if you want it, see Dale Williams' funny account–I was sitting next to Dale). Suffice it to say, among the wines, there was one note that kept recurring: "Nasty, VA meets green pepper with a dash of jalepeno overlaying a bed of silage." Other terms bandied about included burnt rubber, bacterial issues, fermenting/rotting hay, roadkill, and roadkill with burning rubber that ends up in a hog "lagoon."
Here is the complete lineup:
#1 2005 Sierra Carche (lot 8114) WA 96
#2 2005 Espectacle (Monsant) – about $150 (unrated, but 2004 was WA 99, 2006 WA 96)
#3 2004 Pico Madama WA 93
#4 2008 Edgbaston Pepper Pot (South Africa), $14, unrated
#5 2005 Sierra Carche (lot 8114) WA 96
#6 2005 Pasanau (El Vell Coster) Priorat WA 97
#7 2005 Sierra Carche (lot 8114) WA 96
#8 2005 Mollydooker Carnival of Love WA 99 (17% alcohol)
#9 2007 Emilio Moro, Resalso (Ribera del Duero) WA 90
#10 2007 A1 Mouvedre $12 unrated
#11 2007 Panarroz (Jumilla) $6 (Unrated by JM, but RP gave 2003-2006 all WA 90)
#12 2008 Oriol (Emporda) $12 unrated
#13 2001 Clos Fonta (Priorat) WA 94
#14 2005 Sierra Carche (lot 8113) WA 96
2005 Pico Madama (corked, not served) WA 95+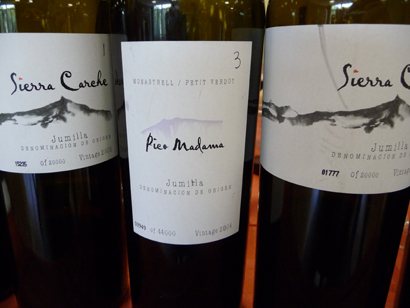 Someone in the group speculated that the 2004 Pico Madama was the same wine as the 2005 Sierra Carche, both from the same importer. (Marc Clinard of the Well Oiled Wine Co, the importer, was planning on attending the tasting but canceled two days prior with a back injury.)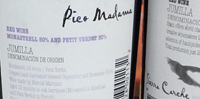 The labels are similar as the photo shows (click to enlarge back labels). And retailer Gary Vaynerchuk had a bad experience with the 04 Pico Madama on camera (around 14:12), dumping it out and dropping his glass on the table out of frustration. In our tasting, the 04 Pico Madama was not quite as bad and neither wine appeared heat damaged; but neither wine was great and the Sierra Carche exhibited consistently bad notes with a surprising green character. There was something possibly bacteriological in the Panarroz, the worst wine of the day.
The importer's laboratory analysis of the various lots of Sierra Carche is still pending. Parker tasted one bottle of lot 8114 in mid-August and gave it a score of 90; Miller, another taster, and Mrs. Parker also tasted the bottle and scored it 91, 92, and 93 points, respectively. He also wrote of possibly tasting more bottles on his video blog. In a summary statement, in mid-August, he also wrote that with "over 300,000 wines tasted….bait and switch tactics MAY have happened a maximum 20 times…in reality a lot less I suspect…we only taste with conscientious people in the wine trade."