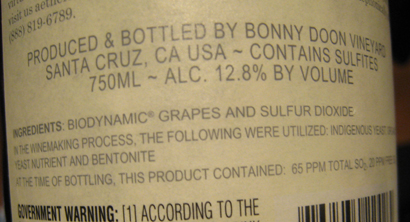 Spotted yesterday at a trade tasting: Bonny Doon's labels are now baring all and putting a full "ingredient" list. This is not a legal requirement but more comprehensive labeling for wine is a subject that is in play. While more information on labels is a probably good thing, it would be helpful to have some context about some of lesser-known aspects of winemaking. But maybe that's what the internet is for, researching things like wine ingredient lists. What do you think about more information on wine labels?
I asked Doonmaster Randall Grahm what prompted him to take this extra step. He said his reasoning was twofold. While admitting it was a little bit "pious" on his part, he said that he was doing it in part to encourage the industry to do more with less and to be more natural while "trumpeting our own virtue." Further, he said that it is kind of an enforced discipline: "if you have to add it to the label, you think twice before doing anything." He added, "It makes a better wine."
Stay tuned for more with the Randall Grahm as I ask him about screwcaps and his new project!
In case you can't read it from the blog-blurry photo of his 2008 Albarino (find this wine), here's the text after the jump:
Ingredients: Biodynamic® grapes and sulfur dioxide.
Other ingredients used in winemaking: indigenous
yeast, organic yeast nutrient and bentonite.
At time of bottling, this product contained:
65 ppm total SO2 and 20 ppm free SO2