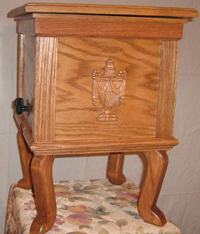 Sales of three-liter box wine are growing at a 32% clip. Compare that to 4% growth in the overall wine market. Sign o' the times!
Why not make that box all fancy? Site reader Damon writes in to say he has made some hardwood cabinets for box wine: take the plastic bladder out of the box and drop it into an oak model that sits on the counter ($200) or a floor-standing model made from purpleheart and birch ($250). He describes them further: "The interior of the cabinets has a stone finish with a sloped floor, which keeps the bladder flowing until it is empty. I will make these custom for people out of any hardwoods that you want, with any finish wanted."
Would you, could you in a fancy box? Or same old box wine in a new container?
Related: "Best box wines of 2008"
UPDATE: After a couple of requests via email and with Damon's approval from Whitefish, MT, his email address is fosterfitness@centurytel.net.