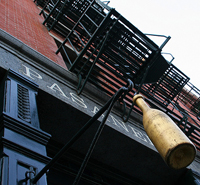 The economy's downturn has left many a gap in the New York State budget. Governor Paterson has proposed some new ways to plug those gaps, such as difficult spending cuts as well as new taxes on private jets, furs and soda. It looks likely that wine will not escape unchanged.
The governor proposes raising the state taxes on wine. Given that the state tax is currently $0.19 per gallon, below the national median of $0.69, we could have seen that one coming.
But he proposes a more far-reaching change: selling wine at grocery stores. Yes, Trader Joe's, Whole Foods and others might soon be able to sell Sancerre right next to the Camembert without the need for special, at-grade entrances to separate facilities. This could really shake up New York wine retail by offering more convenience to consumers and increase wine sales overall; indeed, the governor estimates that it will bring in $150 million in revenues to the state.
Given that the number of licensees would jump from 2,400 to 19,000, the plan would presumably, remove the limit to one location per licensee. This would allow stores such as Zachys, which has only one location in suburban Scarsdale, to open stores in Manhattan or other successful Manhattan stores to open in other neighborhoods. Presumably, they would also be allowed to sell cheese and bread if they wanted to. Many details clearly need to be worked out and we'll see how it unfolds between now and March.
In the meantime, have your say in the latest poll!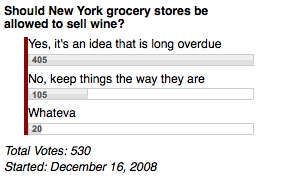 poll now closed