Buying crudité and rosé at the same time might help New York solve its budgetary woes. Or so Governor Paterson thinks.
That's why he has proposed to allow food stores to sell wine, a subject we discussed the day the idea was floated. To recap the budgetary logic, he proposed to more than double the excise tax on wine and increase the points of sale beyond the 2,400 wine and liquor stores in the state and allow the 19,000 grocery stores to sell wine. The Governor's office estimates that it will bring in an additional $150 million over three years, presumably from new store license fees and excise taxes rather than an increase in overall purchases. The deficit for next year alone is forecast to be $15 billion.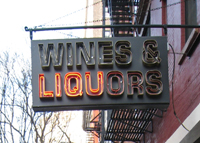 Shortly after I moved to New York State from Chicago four years ago, I was looking for a supermarket wine for a story and wondered where you found "supermarket wine" in New York. The answer is epitomized in this store I saw the other day, which we can call "Wines & Liqu" since that's the only part of the neon sign that was illuminated. It's these stores, uninspiring package stores, that don't much invest in human capital and stock high-volume brands that will be most threatened by the impending change.
But alongside the Wines & Liqu stores are thriving boutiques that is probably the best concentration of wine stores in the universe. Check them out on my map of NYC wine stores if you want to explore some of the rich tapestry that blankets NYC. In the best of times, these stores would have little to fear from Costco, Whole Foods, Trader Joe's, Food Emporium, and Fresh Direct (oh wait, they already do) selling wine. But this is not the best of times; it is the worst of times economically so an erosion of even a small percentage of these stores' business could bring them to the edge of a precipice.
So the challenge for these stores is to make this into an opportunity. One option is to take a page from the Chicago store playbook and add cheese, cured meats, and craft beers, sort of a gourmet deli with a strong wine focus. Another option is to continue to invest in staff training, since big box retailers all too often let the flaps of paper do the talking. In my view, the staff represents one of the great assets of small stores; forming a good relationship with someone on the staff can be worth it's weight in, well, Cabernet. A final strategy that requires more capital (you remember back when banks made loans, don't you?), would be taking a winning wine store and expand it to other parts of the city or state.
Many stores offer a discount to purchases of 12 bottles or more, in part because they get volume discounts when they buy from wholesalers. But food stores selling wine could siphon off the one or two bottle customer. Far be it for me to want to clog up my wallet any more, but perhaps a loyalty card scheme might come in handy and apply a discount retroactively after twelve bottles purchased. Or take a page from the air miles rewards program and offer customers tiered service through loyalty discounts or other perks based on total expenditure in the year. Price competition is likely to be more acute in the next chapter of NY wine retail, particularly if interstate wine shipping becomes a more widespread reality (but even this holds within it the opportunity to legally expand the market for boutique wines to states that don't have such a varied selection).
Could interesting wines end up on supermarket shelves? Absolutely; I've certainly gotten interesting wines in supermarkets in Chicago and California. But supermarkets often operate with a regional buyer who sets up an approved list. And the list at even the best may not be extensive and small wineries, often the source of tasty bargains and interesting splurges, may not on the list since they don't have sufficient volumes to supply a regional or national chain. As to drinking locally made wine, it's probably a fair guess that since most wineries in New York don't produce a lot of volume, they wouldn't be winners under the reform either.
It will be fascinating to see what New York wine retail looks like in five years, assuming the proposed legislation passes. But to survey what the situation looks like now and hopefully generate some ideas, I've talked to several wine shop owners about their stores and their thoughts going forward. Check back for the first in our 2,400 part series, Better Know a Wine Shop.