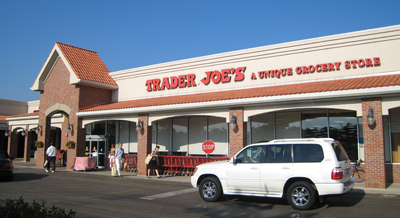 On a trip this past summer, my family and I got stranded in Chicago overnight because of airline delays. We called a friend who was able to take us in when the airline would not; she put us up even though the delay was entirely their fault (canceled flight). So we decided to make dinner for our friend and I was dispatched to the nearest shopping center where I knew I would get the food at Trader Joe's. But what about the wine?
Somewhat surprisingly for a suburb with $96,552 median household income, there didn't appear to be an independent wine shop for miles. But Trader Joe's sells wine in Illinois stores. And there was another choice: Wine Styles, a franchise wine store wedged in between a karate space and a day spa. I went to both to see what I could find.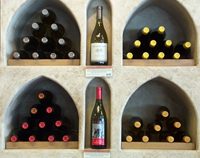 Wine Styles rests a display bottle on a small shelf next to a series of plaster alcoves, which contain a case of the same wine. The limited wine selection is arrayed theoretically by flavor profile, ranging from crisp to rich for whites and fruity to bold for the reds. But I wanted some Champagne to toast our friend's generosity so headed to the "Bubbly" area where there was an uninspiring collection of a few cavas. The clerk admitted that the selection was thin now, stating that they tend to ramp up bubblies toward the end of the year.
So I asked for a cru Beaujolais, which can be refreshing at any time of year but is a particularly good red for summer in my view. The clerk did not know whether this would be Fruity or Mellow, searched in both, then headed over to the Rich where he came up with a a new proposal: a Cotes du Rhone. Hmm. Not exactly what I was looking for. I excused myself and started poking around on the white side of the store.
I noticed that they stocked some wines from Kermit Lynch and homed in on the baby blue font of Champalou, a family-run winery in Vouvray (who makes a fine sparkling wine too). The dry wine is an excellent expression of the chenin blanc grape. Even though it was about 20% over the retail price elsewhere (search for Champalou), I bought the wine and headed back down the strip mall on foot, past the karate studio, Staples and an expanse of tarmac, still hot from a day in the late summer heat.
At Trader Joe's, I loaded my cart with various things for our meal and headed to the wine aisle–yes, aisle, and not separate store as with their location 14th street in Manhattan (but that may change soon). The wine selection was more varied, with lots of Italian wines, and the prices seemed lower. But because there are many private label wines only available at Trader Joe's, such as the iconic Charles Shaw aka "Two Buck Chuck," it wasn't always possible for me to compare prices to wines outside the store–or to have an idea of what the wine tasted like. And there was no staff member there to talk me through although I suppose I could have flagged someone down to hear what they had to say. Instead, I decided to plump for a bubbly I had tried before, bypassing the Pol Roger Champagne for the Roederer Estate sparkling wine from Anderson Valley.
I headed back to our friend's, uncorked the wines, cooked the food, and enjoyed the metaphorical lemonade that we squeezed from the lemons the airline handed us. But I couldn't help thinking that if those were my only two local wine shops that I'd favor Trader Joe's in a pinch. I'd also try to seek out other stores either downtown or in other suburbs since Illinois residents are legally prohibited from ordering wine from out-of-state retailers.