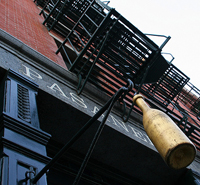 The budget battle in Albany looms on the calendar–and with it a decision for a possible overhaul of New York wine retail law that would expand wine sales to supermarkets. (See backgrounders here and here.)
In an op-ed in yesterday's NYT, wine shop owner Marco Pasanella makes the case that he and other independent shops should be allowed to expand to have more than one location and be able to sell bread, cheese, microbrews, and, yes, recyclable bags, which they are not allowed to currently sell. I'll drink to that! In fact, it is absurd that this corollary is not in the proposed reform legislation and should be corrected immediately.
I stopped by Pasanella & Son last week for a book signing. It is a handsome shop with an antique Fiat on the floor; the wine selection is excellent. The staff did a fantastic job setting up the event and it was great to see so many people, particularly from the neighborhood turn out. In his op-ed, Marco says that the staff at a local shop will remember a customer's name. In fact, one woman there that evening told me that the staff member actually remembered which wine she had bought on her previous visit when she couldn't. Bet that won't happen at D'Agostino.
Also check out their clever and popular free wine and movie nights, Sip 'n Cinema!
"If You Sell Wine, Then Let Me Sell Cheese" -NYT op-ed
New York City wine shops, a map