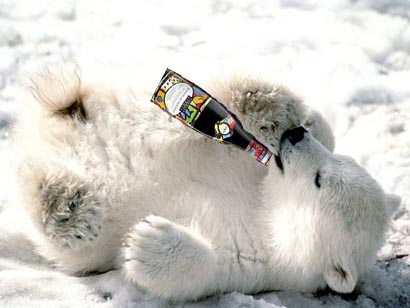 This November 20, cases of Beaujolais Nouveau will fall from the sky and land as endcaps in wine shops everywhere. This fall, I encourage you to say no to the Nouveau–and reach for a local wine instead.
Beaujolais Nouveau is a travesty on at least two levels, one gustatory and one environmental. The grapes for this proto-wine were harvested only three months prior to the airdrop. In some years, they are not ripe enough and need to have their alcohol levels boosted by sugar. And most of the Nouveau is made with machine-harvested grapes carbonic maceration, commercial yeast strains and enzymes to give it a confected taste. Don't get me wrong: I think gamay is one of the most food-friendly red grapes and a great value but mostly when it hails from one of the smaller subzones of Beaujolais.
Regulations prohibit the bottling of the wine more than one week before the arbitrary date, when signs all around the world used to proclaim triumphantly "le Beauolais noveau est arrivé" (the Beaujolais nouveau has arrived!") Now, the dreadful slogan is "It's Beaujolais nouveau time!" which sounds perilously close to a rip off of a Miller ad.
The short allowable time between bottling and release sets off a global sprint to transport the wine as far afield as Tokyo, San Francisco and Santiago. This has involved motorcycles, trucks, helicopters, regular jet planes and even, in a previous era, the Concorde!
As my research on the carbon footprint of wine has shown, airfreight is hardly the best way to transport any wine even if it were good. A bottle of Georges Duboeuf flown to New York has four times the carbon footprint than if it were sent by ship.
But the idea of a global wine celebration on the third Thursday of November is too appealing to ignore. So let's ride on the coattails (jetstream?) of this global wine celebration but raise a glass of local wine instead. Wine is now grown in all 50 states and many of us who don't live on the West Coast overlook our local producers. And many of those wines are likely to go well with the Thanksgiving repast.
So say no to Nouveau and join me in raising a glass of local wine this November 20! Do it for the polar bears.
See the UPDATE to this post.