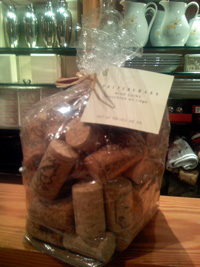 This seen by our undercover operatives at Pottery Barn: a bag of 55 wine bottle corks for $14. Not a wine stain on any of them! Stumped by why they were being sold (home winemakers wandering through the store perhaps?), our agent then spotted a square vase filled with the display corks. A good look, but a little sterile since the corks were mere props.
Just think that 55 bottles of $10 wine is only $550 — pleasure, memories, and, yes, corks, included. Then you can apply the $14 saved toward the cool vase. I'm looking forward to the bag of 55 screwcaps, due out soon.
What do you do with your used corks?
Related:
–Reduce, reuse…recork?
–13,500 bottles of wine ARE the wall
–To Cork or not to Cork, a giveaway