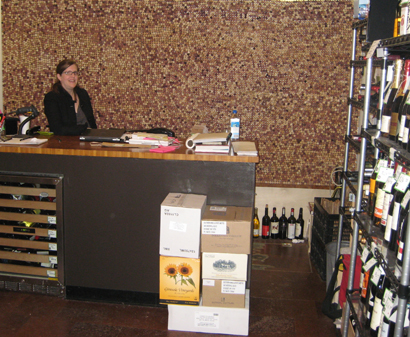 "I used to say that the shop was 400 square feet," Christy Frank told me when I visited her in her downtown wine shop, Frankly Wines, last week. "But it's actually closer to 350."
The diminutive shop at 66 West Broadway has a selection that skews toward wines from the Southern Hemisphere and wines under $20. But perhaps the most distinctive feature of the shop is what might well be the world's largest cork board made entirely from corks pulled from wine bottles.
Christy says that the covered portion of the wall, approximately six feet by eight feet, has about 15,000 corks affixed with wood glue. It took a total of 30 hours of labor to adhere them all. The original inspiration was to tastefully cover a fusebox but it grew to cover the whole wall.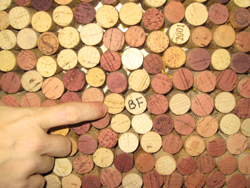 The amount of corks that she actually pulled herself is a relatively small, she told me gesticulating at a small corner of the space. Instead the bulk of the corks came from purchases on eBay where she said there is a thriving market for corks.
Christy says that kids love the tactile nature of the wall and some have written their initials on the corks. Take that Facebook: people can write on Christy's real wall.
Related: "I just saved you $40 at Pottery Barn"
13,500 bottles of wine are the wall
Map of the best wine shops in New York City